THEATRE
Lupu/Nagħġa
Teatru Malta, in collaboration with Dù Theatre, is staging the latest play written and directed by Simone Spiteri between January 27 and February 5 at the Valletta Campus Theatre.
The play, originally commissioned by Teatru Malta for the European Theatre Convention as part of the Pipelines project and supported by Arts Council Malta, observes typical characters that make up Maltese society and the dynamics between them.
In Spiteri's own words, Lupu/Nagħġa promises to be "an intense, exciting, thought-provoking, somewhat satirical and rather hard-hitting piece of work" where first impressions are deceiving.
The production, featuring a 12-strong cast and certified 15+, will be performed in Maltese with English subtitles. A talk will follow the first performance on January 27.
For tickets, visit teatrumalta.org.mt.
Bil-Bieb Mitbuq
Spazju Kreattiv is staging the play Bil-Bieb Mitbuq, directed by Tyrone Grima and based on Kevin Saliba's Maltese translation of Jean-Paul Sartre's Huis clos, this weekend.
As an œuvre majeure of French existentialism, the play grapples with several onerous aspects of the human condition: the price of freedom; suffering; courage and weakness; authenticity; the consequences of our choices; responsibility; the pain people inflict on each other; deception and lies; cruelty; the power of the gaze; the masks people wear every day; the problematic of the self; the existence of others; the impossibility of love; and isolation.
This intercultural production seeks to dramatise Sartre's vision of hell with certain innovative dramatic elements, including through some Tanztheater (dance theatre) performances by Maltese, Luxembourgish and Japanese choreographers.
The cast features Antonella Axisa, Sarah Camilleri, André Mangion and Sean Briffa.
The play is being staged on January 27 and 28 at 8pm, and on January 29 at 7pm. For tickets, log on to www.kreattivita.org.
Dorian Mallia and Andre Mangion in Bil-Bieq Mitbuq. Photo: Facebook/Spazju Kreattiv
MUSIC
Valletta Baroque Festival
The three-week festival, which opened on January 11, comes to an end this week. Various concerts will be taking place at different venues across the island:
Streets of London, performed by Prisma at Verdala Palace, Buskett, on January 25 at noon;
Delirio Amoroso, presented by L'Arte del Mondo with soprano Francesca Lombardi Mazzulli at the Casino Maltese, Valletta, on January 25, at 7.30pm;
Spectacular Piano Transcriptions featuring pianist Robert Cominati at the Manoel Theatre, Valletta, on January 26 at noon;
The Piper and the Fairy Queen, starring the Camerata Kilkenny at the Verdala Palace, Buskett, on January 26 at 7.30pm;
Bach Spectacular Violin, performed by violinist Charlie Siem at Palazzo Parisio, Naxxar, on January 27 at noon;
To Touch the Heart, featuring the Passacaglia Trio at the Verdala Palace, Buskett, on January 27 at 4pm;
Inspired by Baroque, performed by the Malta Philharmonic Orchestra at the Jesuit church, Valletta, on January 27 at 7.30pm;
Beware of the Spider, starring Polisander, at the Malta Maritime Museum, Vittoriosa, on January 28 at noon;
Vivaldi Quattro Stagioni & Handel: Royal Fireworks Music, featuring organist Hansjörg Albrecht at the church of Our Lady of Mount Carmel, Balluta, on January 28 at 4pm;
Alessandro Scarlatti: Il Giardino di Rose, performed by the Ensemble Divino Sospiro, at St Dominic's basilica, Valletta, on January 28, at 7.30pm;
BaRock, starring The Rock Troupers, at the Manoel Theatre, Valletta, on January 28 at 9.30pm.
The festival will come to an end on January 29 with the world premiere of Abos: Mass in G, performed by Cantarlontano and the Monteverdi Project, directed by Marco Mencoboni, at the Jesuit church, Valletta, at 10.30am.
For more details, visit festivals.mt/vbf.
Concert of Sacred Music
The Schola Cantorum Jubilate will open the new year with a concert of sacred music performed by its soloists at Ta' Pinu National Shrine on January 27 at 7.30pm. 
The concert forms part of the Gozo Arts Weekend (see arts section) organised by the Għaqda Ħbieb tal-Presepju Għajnsielem in collaboration with the Ministry for Gozo.
Soloists Hannah Tong, Michaela Agius, Elise Xuereb and James Agius will perform sacred pieces by Mozart, Handle, Goodall, Shubert, Gabriel, Vivaldi and by the Maltese Ġużeppi Caruana. Attendees will also listen to a composition by James Agius and an interesting musical arrangement of Riesaq il-Lejl Mulejja by Paul Portelli.
The soloists will be accompanied by Milica Lawrence on the piano and SCJ chorister Laetitia Troisi de Menville on the harp. The soloists and musicians will be under the direction of Marouska Attard.
Everyone is invited and entrance is free.
Sliema band in concert
The Sliema Band will be performing at the Holy Trinity Church in Sliema in a bid to raise funds for the Bell Tower Appeal on January 28 at 7pm.
The band, conducted by Lesley Tabone will perform popular numbers by Abba, Adele, John Lennon and Queen. They will also play music from Phantom of the Opera, Lion King and Karl Jenkins's Benedictus, arranged for the band by Aurelio Belli with Omar Coleiro performing soloist on the euphonium.
The concert, presented by Mario Fenech, will come to an end with Sliema Local Council Hymn composed by Andrew Coleiro and Cardenio Botti's Inno Sliema.
Admission is free but a retiring collection will be taken a the door.
The Sliema band in a past perfomance. Photo: Facebook
Concert in honour of St Cecilia
The Għaqda Nazzjonali Każini tal-Banda is holding a concert to celebrate St Cecilia, the patron saint of music, at the Manoel Theatre, in Valletta, on January 29 at 7.30pm.
Taking part will be the band club Madonna tal-Karmnu Fgura AD 1985, under the direction of Johan Debattista.
For tickets, which are free, call on 7905 8145 or e-mail info@bandafgura.com. Only ticket holders will be granted entry.
Don Bosco Grand Concert 2023
The Gozo Youth Wind Band within the Gozo Youth Wind Band & Orchestra is presenting its annual concert on January 29. As in previous years, the band will present new arrangements and a varied programme to appeal to people of all ages. The concert will come to an end with the Don Bosco Hymn.
The band will be under the direction of founder and music director Joseph Grech
The Don Bosco Grand Concert will be held at the Oratory Don Bosco Theatre, Victoria, at 7pm.
The event is supported by the Cultural Heritage Directorate within the Gozo Ministry, Festivals Malta and MTA among others. 
The Gozo Youth Wind Band
ARTS
Gozo Arts Weekend
Gozo is hosting a weekend of music and exhibitions dedicated to artist Ġużeppi Briffa between January 27 and 29.
The event, organised by the Għaqda Ħbieb tal-Presepju Għajnsielem in collaboration with the Ministry for Gozo, kicks off with a vocal concert by soloists from the Schola Cantorum Jubilate (see Music section) and the opening of an exhibition of Briffa's works at the sacristy of the Ta' Pinu Sanctuary.
On January 28, Briffa's works will be exhibited at Il-Ħaġar Museum, in Victoria, while churches adorned with his paintings will be open to the public. These are Our Lady of Perpetual Succour and St Gregory the Great churches, Kerċem, Ta' Pinu National Shrine, St Anthony of Padua church in Għajnsielem and the church of St Augustine's convent in Victoria.
On January 29, there will be a vocal concert by baritone Charles Buttigieg at St Anthony of Padua church, Għajnsielem, at 4pm. Buttigieg will be accompanied by pianist Mariella Spiteri Cefai.
For more information, log on to visitgozo.com.
---
DANCE
Alice in Wonderland
Students of Johane Casabene Dance Conservatoire are performing Lewis Carroll's beloved story Alice in Wonderland at St Agatha's Auditorium, Rabat, on January 28 and 29.
The production is suitable for all the family and patrons of all ages.
Saturday's performance will be held at 6.30pm, while Sunday's show will take place at 3pm. For tickets, click here.
Leonóra Chircop will interpret Alice in the dance spectacle Alice in Wonderland. Photo: Facebook/Johane Casabene Dance Conservatoire
FILM
Happy Chinese Film Festival
The festival, organised by the China Cultural Centre in Malta and Spazju Kreattiv, comes to an end this week with the screening of the 2019 film The Captain (12A) on January 24 at 7.30pm.
The action film, which follows a plane accident in mid-air, will be showing at Spazju Kreattiv, in Valletta, in Chinese with English subtitles.
For more information and tickets, visit kreattivita.org.
---
Miscellaneous
Talk on Mdina siege
Adrian-Mario Gellel, a member of the Faculty of Education, University of Malta, will be delivering a lecture titled 'Retelling the narrative of the 1429 siege of Mdina within a contemporary secular and pluralistic context' at St Paul's cathedral, in Mdina on January 27 at 7pm.
Gellel will discuss the cultural elements attached to the 1429 siege as a case study on how to retell a story, which for centuries was deeply interpreted through a Christian lens, in a context that is now becoming ever more secular and pluralistic. The lecture also aims to shed light on the centrality of symbols in the construction of personal and national symbolic repertoires, as well as the pedagogical approaches that may need to be adopted in order to continue to value the collective memory.
The one-hour event will also feature the premiere of a video animation of Mattia Preti's painting St Paul conquering the Moors, produced by Stargate Studios, and the launch of an accompanying teaching manual published by the Symbol Literacy Project and the National Literacy Agency.
Symposium on the impact of the arts
Speakers Raphael Vella, Isabelle Gatt, Josette Ciappara, Kristina Borg, Karsten Xuereb, Toni Attard, Margerita Pulè and Gabriel Zammit will discuss the role of social engagement in the EU-funded project AMASS and other similar artistic projects during a symposium being held at Valletta Contemporary on January 28 from 5 to 7pm.
Acting on the Margins: Arts as Social Sculpture (AMASS) implemented over 30 creative projects around Europe in order to analyse and promote the role of the arts in the mitigation of societal challenges experienced by groups facing different forms of discrimination.
It also aimed to generate new forms of civic engagement and to address the marginal positioning and under-representation of some groups and communities in Europe.
The symposium will be moderated by curator Maren Richter. For more info, visit the event's Facebook page.
Moonlight Market in Gozo
The Jam Project Gozo is holding a night-time market featuring artisan stalls, a flea market, food, teas and jamming at 287, Triq Tal-Għajn, Fontana, on January 28 from 5 to 10pm. Everyone is welcome.
---
VISUAL ARTS
Enlightenment
Rebecca Cassar is presenting an exhibition of her latest works at the art galleries of the Malta Society of Arts seat, Palazzo de la Salle in Valletta, until January 26.
The exhibition focuses on the use of colour, texture, and 23.5-karat gold leaf to express the artist's personal journey over the past year and a half.
The galleries are open Mondays to Fridays from 9am to 7pm and on Saturdays from 9am to 1pm. They are closed on Sundays and public holidays.  For more information about the exhibition, click here and for more information about the artist, visit rebeccacassar.com.
Works by Rebecca Cassar on display at Palazzo de la Salle. Photo: Facebook/Malta Society of Arts
Lampuki Moqli
The Phoenicia Hotel in Floriana is hosting an exhibition by artist Mariam De Giorgio.
De Giorgio specialises in acrylic painting and illustration but also enjoys experimenting with ink, watercolours and mixed media. Her paintings have a distinctive personal style that allows viewers to enter a fantasy world. This is also due to the choice of palette, even when depicting real places and figures. 
Curated by Charlene Vella, the exhibition runs until the end of the month.
Ħobż biż-żejt fuq barmil by Mariam De Giorgio
Harmony in Motion
Joseph Casapinta's lastest exhibition features watercolour-based works created both in his studio and during en plein air sessions. 
The title Harmony in Motion harks back to Casapinta's Dancing Brushes exhibition of 2008, which was about the harmonious 'dancing' movements of his brushwork that helped him develop a different style and technique while showing his love for our country's past and present, through landscapes and urban scenes.
Harmony in Motion, hosted by Gemelli Art Gallery, Ta' Qali Crafts Village, is open until January 31. Consult the artist's Facebook page for more information.
Latini taħt Sant'Anġlu by Joseph Casapinta
A Date with MeliTension
Local artist Ramon Azzopardi Fiott is showcasing 10 digital paintings depicting fantastical creatures inspired by icons of Maltese identity, set against local backdrops.
He is also debuting MINItension, a series of limited-edition fine art prints that are smaller, have a larger print run and a more modest price tag than the standard edition.
The works are being showcased at the DATE Art Café, Cospicua, until January 27.
Read an interview with the artist here.
Street Organ Blues by Ramon Azzopardi Fiott
The Dope Show
Etienne Farrell and Mark Mallia are opening another collaborative exhibition, whose mission statement reads: "The boring, aggressive and self-centred fools become more bearable and very often even comic."
The artists assert that having met so many different people in the past few months, they coined the idea of putting up a circus, a sort of 'freak' show that includes many interesting characters. They say that they have undertook an ethnographic investigation of the facial features of people they came across, or their own subconscious representation of them.
The Dope Show, hosted by Obelisk Gallery, Main Street Balzan, is on from January 27 until February 4. Log on to the event's Facebook page for more information.
Henry by Mark Mallia
Amygdala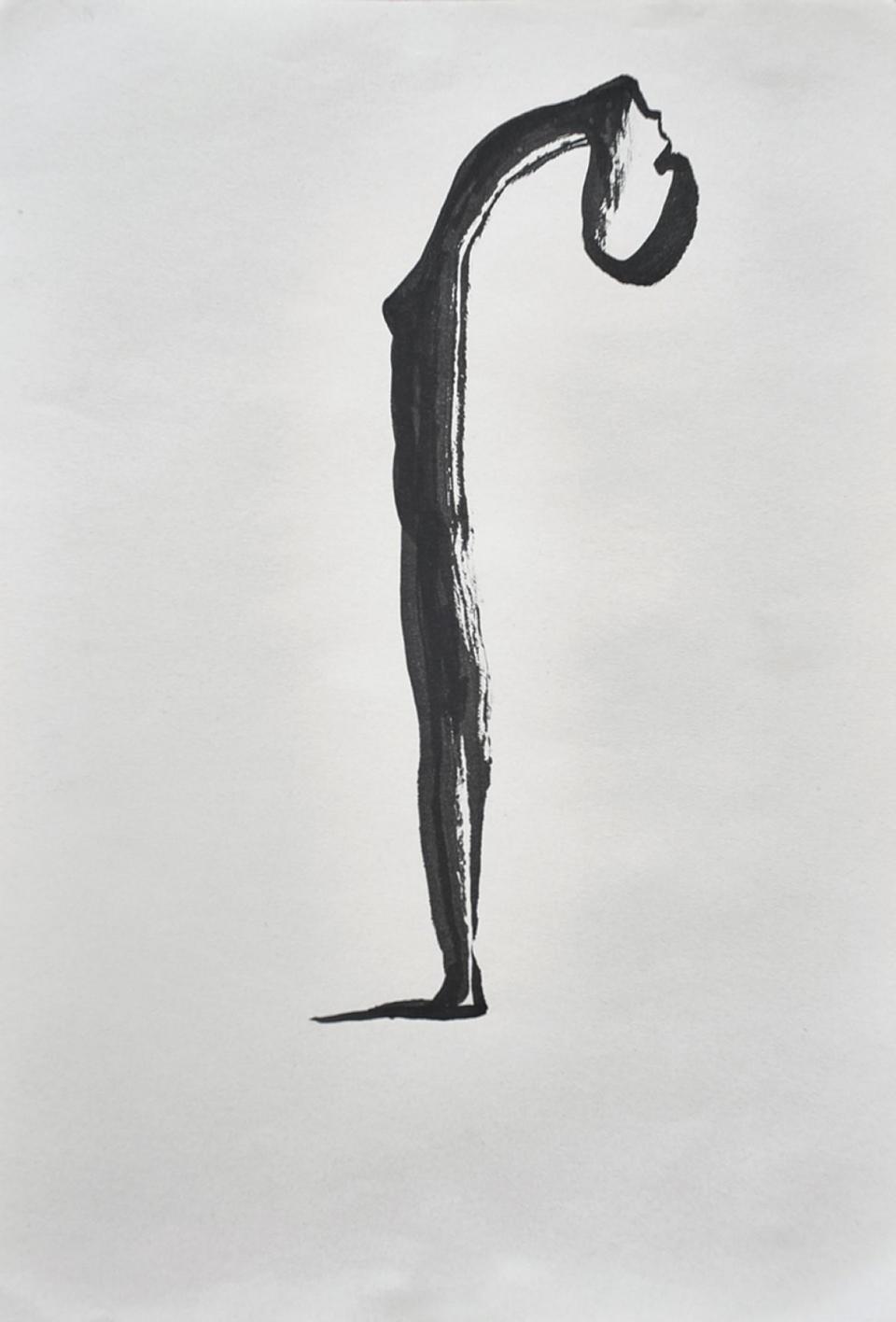 Yielding by Kim Sammut
Blitz is hosting an exhibition by Kim Sammut and curated by Sara Dolfi Agostini from January 12 to February 9.
Sammut is the recipient of Blitz Valletta's competitive open call for a Malta-based emerging artist launched in 2022. As the chosen artist, she was granted the opportunity to present a new project produced and exhibited by Blitz.
This initiative is intended to give the successful applicant a curated platform to express themselves, an occasion to work one-to-one with an international curator on a new commission and improve their professional skills while promoting their artistic practice, while Blitz acts as a host institution, a mentor and partner.
The exhibition, supported by Arts Council Malta, is open at Blitz, 68, St Lucia Street, Valletta, from Wednesday to Friday from 2 to 5pm and on Saturdays from 10am to 1pm. It is closed from Sunday to Tuesday.
For more information, visit the gallery's Facebook page or https://blitzvalletta.com/. 
C'est la vie
Ceramist Joseph Agius is exhibiting a series of works focusing on various aspects of life at Il-Kamra ta' Fuq in Mqabba.
The exhibition title is meant as a tongue-in-cheek or sarcastic comment to highlight the alienation that we are surrounded with and the 'laissez-faire' way of life that we are so used to live in.
The theme focuses on various rules, attitudes and different social 'traditions', along with serious social issues, including migration, poverty, genocide and injustice.
The exhibition runs until February 12. For opening hours and more details, click here.
Also read this Times of Malta review.
It's All Your Fault by Joseph Agius
Experiments in Entropy
But, Did You Hear That by Maria Azzopardi
The second law of thermodynamics states that as energy is transformed, it incrementally dissipates and tends towards loss, decay and waste. This is the process of entropy; a process of mutual construction and demolition. It applies to societies and to systems, as it does to the natural environment, and has generated curiosity since its peak in art production in the 1960s.
Ten architects, who collectively started architecture school a decade ago, have been asked to investigate trajectories of this narrative in their daily grind and the result is on show at the Valletta Contemporary until February 18. It is curated by Andrew Borg Wirth.
The gallery in East Street, Valletta, is open from Wednesdays to Saturdays from 2 to 7pm. It is closed betwen Sundays and Tuesdays. Look up the Valletta Contemporary Facebook page for more information. Also read this Times of Malta feature.
Anamnesis
Artist Clint Calleja is presenting an introspective exhibition consisting of paintings, sculptures, photography and installations revolving around the theme of 'trauma and memory'.
Curated by Kenneth Cassar, this exhibition purports to be an intimate confession through four life-changing tragic chapters that have marked the artist and his family in a short period of time.
The exhibition, supported by Arts Council Malta, runs till February 26. For more information, visit kreattivita.org.
One of the works on display at the exhibition Anamnesis. Photo: Audrey Rose Mizzi
Anthological Art Exhibition
Artist Mario Zammit-Lewis is showing his latest works at the parliament building in Valletta from January 15.
The exhibition retrospectively explores the various aspects of the artist's oeuvre that is stylistically and thematically very eclectic. A monograph, published to accompany the exhibition, will be launched during the inauguration and will be available for purchase at the venue.
Zammit-Lewis, born to a Maltese father and an Italian mother, has exhibited extensively abroad. He is the recipient of a number of international awards that have celebrated his accomplishments along the years.
Anthological Art Exhibition runs until February 28. Opening hours are Monday to Friday from 9am to 5pm and Saturdays and Sundays from 8 am till noon.
Narratori del nostro tempo by Mario Zammit-Lewis
What'Chu Looking At? Who You Speaking With?" A Gazing All Around
Spazju Kreattiv in Valletta is hosting a series of works by African creatives who explore the countless realities and situations that are present across the 54 countries making part of the continent of Africa.
The exhibition, commissioned by the creativity centre, opens on January 27 and runs till March 5. For more information, click here.
An artwork to go on display at Spazju Kreattiv. Photo: Facebook/Spazju Kreattiv
OTHER EXHIBITIONS
Unseen and Unheard: Stories of Women Under Fire
Exhibits at the Storm Petrel Foundation. Photo: Facebook/Storm Petrel Foundation
The Storm Petrel Foundation is presenting an archival exhibition that sheds light on overlooked or previously unrecorded war narratives and microhistories from Malta and elsewhere.
It brings together items and artefacts drawn from different collections, with a primary focus on wartime experiences of women and girls.
The exhibition was inspired by a series of conversations between the NGO and Robert Attard, who had found a collection of letters written by a young German woman during World War II, some of which are on display.
The exhibition is organised across five different rooms at the Storm Petrel Foundation's premises in Attard, with each room representing a different era or focus.
The Storm Petrel Foundation has collaborated with Simon Cusens, Kim Dalli, Sharp Shoot Media, Media Coop, Tayar Foundation for Jewish Heritage in Malta, Sarah Chircop and Giuliana Fenech, Heritage Malta, Fondazzjoni Wirt Artna and Palazzo Falson.
The exhibition runs until April 14. Opening hours: Wednesdays to Fridays from 5.30 to 8pm and the first Saturday of every month from 10am to 12.30pm. For more information, visit the foundation's Facebook page.
whatson@timesofmalta.com
Independent journalism costs money. Support Times of Malta for the price of a coffee.
Support Us