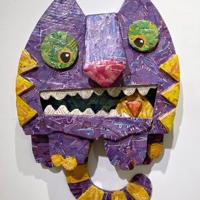 Frank Suchomel Memorial Art Center: Local sculptors (outdoors) and other works collected by the late Frank Suchomel, ongoing, Meditation Garden and concert hall, Haggett Road, Adamant, www.fsmac-quarryworks.org
Canfield Gallery: Rose Klebes, July 21-Aug. 29, local plein air artist exhibits her newest works, Martha Canfield Library, 528 E. Arlington Road, Arlington, 802-375-6153, www.facebook.com/TheCanfieldGallery
AR Market: Matt Larson, through Aug. 19, "Walking with Gaia," paintings, "ARTE at AR," 159 N. Main St., Barre, 802-479-7069, www.studioplacearts.com
Espresso Bueno: Al Salzman, through Aug. 15, figurative ovals and rounds by Vermont political cartoonist, 248 N. Main St., Barre, 802-479-0896, espressobueno.com
Morse Block Deli: Juliana Fechter, through Sept. 10, "Exploring Back Roads," Morse Block, 260 N. Main St., Barre, 802-479-7069, www.studioplacearts.com
Studio Place Arts: "That Cat," through Aug. 20, art that extols felines and our relationships with them, Main Floor Gallery; "Letting Go: A Work in Progress," mixed media by Michelle Lesnak, Second Floor Gallery; "Brushwork Barre," everyday places and iconic structures by Tracey Hambleton, Third Floor Gallery; Paul A. Calter, through Aug. 19, "Mount Mansfield Sketchbook," plein air paintings, Quick Change Gallery, SPA, 201 N. Main St., Barre; 802-479-7069, www.studioplacearts.com Art Social, 6 to 7:30 p.m. Thursday, July 21.
Canal Street Gallery: Vermont Summer Group Show, through Sept. 3, fourth annual; Represented Artist Show, through Aug. 12, 23 Canal St., Bellows Falls, 802-289-0104, canalstreetartgallery.com
Bennington Museum: "Parks & Recreation," through Sept. 5, art recognizes Vermont's parks; North Bennington Outdoor Sculpture Show, through Nov. 12; "Perspective: The Story of Bennington through Maps"; "Across the Street: Historic Bennington," ongoing; Grandma Moses, ongoing, current exhibitions; Bennington Modernism, ongoing, current exhibitions, 75 Main St., Bennington, 802-447-1571, www.benningtonmuseum.org
Central Vermont Medical Center: Photographer Linda Bryan, through Aug. 6, "Wavy Glass Windows: Memories, Isolation and Light," CVMC Gallery, 130 Fisher Road, Berlin, 802-371-4100, www.cvmc.org/about-cvmc/cvmc-art-gallery
Brandon Artists Guild: "Vermont: on the Road," through Sept. 5, third of three Vermont-centric shows, 7 Center St., Brandon, 802-247-4956, www.brandonartistsguild.org
Brattleboro Museum & Art Center: Through Oct. 10: "Felt Experience," work by Marjolein Dallinga, Ruth Jeyaveeran, Melissa Joseph, Liam Lee and Stephanie Metz; "Nebizun: Water Is Life," artwork by Abenaki artists of the Champlain Valley and Connecticut River Valley regions; "Fluid Boundaries," anthropomorphic shapes by New York artist Mie Yim; "Unraveling Oculus," video installation by Beth Galston and other alumni of MIT's Center for Advanced Visual Studies (CAVS); "There/There," abstract landscape fresco paintings by Frank Jackson; Outdoors: "Roberley Bell: The Landscape Stares Back" and "Oasa DuVerney: Black Power Wave," Union Station, Main Street (Route 5) and routes 119 and 142, Brattleboro, 802-257-0124, www.brattleboromuseum.org
Vermont Center for Photography: Mark Shaw, through Aug. 28, "Selections from the Archive," by Life Magazine photographer, 49 Flat St., Brattleboro, 802-251-6051, www.vcphoto.org
BCA Center: "More Than an Object: The Contemporary Life," through Oct. 8; "Sky Hopinka: Fainting Spells." Through Oct. 8, Burlington City Arts, 135 Church St., Burlington, 802-865-7551, www.burlingtoncityarts.com
Karma Bird House: "John Douglas (1938-2022): A Life Well-Lived," through Aug. 22, memorial retrospective presented by The Northern New England Museum of Art (NNEMoCA), Gallery, 47 Maple St., Burlington, 802-793-8482, www.NNEMoCA.org
DaVallia Gallery: Tom Pirozzoli, through July 31, "Grateful for Love," new collection of paintings, 39 North St. (Route 103) Chester, (802) 875-8900, www.thedavallia.com
White Water Gallery: "Protest, 1967, 1968, 1969, Washington, D.C.," through July 17, photos by Ross Connelly, co-publisher and editor of The Hardwick Gazette 1986-2017, 5 River St., East Hardwick, 802-563-2037 or 802-535-8602, whitewatergallery.blogspot.com Closing reception, 4 to 7 p.m. Sunday, July 10.
The Hyde Collection: "Transformations: The Art of John Van Alstine," through Sept. 18; "José Guadalupe Posada: Legendary Printmaker of Mexico," through Sept. 18, 161 Warren St., Glens Falls, New York, 518-792-1761, hydecollection.org
Bread & Puppet Museum, through Nov. 1, fantastic collection of puppets of all sizes, from hand puppets to gigantic puppets used in parades and circuses, that fill renovated 1860s barn, 753 Heights Road, Glover, 802-525-3031, www.breadandpuppet.org
Highland Center: "In Motion," through July 24, Lois Eby's lyrical paintings with Judith Wrend's colorful kinetic sculpture, Highland Center for the Arts, 2875 Hardwick St., Greensboro, 802-533-3000, highlandartsvt.org
Hood Museum of Art: "This Land: American Engagement with the Natural World," through July 23; "Unbroken: Native American Ceramics, Sculpture, and Design," through April 30, 2023; "In the Moment: Recent Work by Louise Hamlin," through Sept. 3, Dartmouth College, 4 E. Wheelock St., Hanover, New Hampshire, 603-646-1110, hoodmuseum.dartmouth.edu
Birds of Vermont Museum: "Fine Feathers," through Oct. 1, the art of birds by various artists, 900 Sherman Hollow Road, Huntington, 802-434-2167, www.birdsofvermont.org
Bryan Memorial Gallery: "Parks & Recreation," through Sept. 5, historical and contemporary interpretations of Vermont's State Parks, in collaboration with the Bennington Museum; "2022 Legacy Collection," through Dec. 24, works of 16 distinguished artists plus works of Alden and Mary Bryan, 180 Main St., Jeffersonville, 802-644-5100, www.bryangallery.org Art in the Park, 11 a.m. to 3 p.m. Saturday, July 23.
Vermont Studio Center: Heather Guertin, through Aug. 2, "New Stage for a City," forms of the theater, stage, and lights collaged with other images of the natural world, Red Mill Gallery, 80 Pearl St., Johnson, 802-635-2727, www.vermontstudiocenter.org
AVA Gallery: "10×10=AVA," through Aug. 12, exhibition and fundraising; Three Vermont artists, July 22-Aug. 10, Amy Morel, Matt Neckers and John F. Parker, 1 Bank St., Lebanon, New Hampshire, 603-448-3117, www.avagallery.org Opening reception, 5 to 7 p.m. Friday, July 22.
Southern Vermont Arts Center: Yester House Summer Exhibitions: "Masked," July 23-Sept. 11, work by 22 Vermont artists with disabilities; "Dwell: Home Is Where the Art Is," before SVAC; "VitroVerse," glassblower/sculptor builds a chandelier for SVAC; Community Portrait Project, mixed-media portraits of community change-makers; "Relationships: hot, cold, intricate," through Aug. 14, featuring New England Wax regional art association, Wilson Museum, Wilson Museum, 930 SVAC Drive, Manchester, 802-362-1405, www.svac.org Yester House opening reception, 5 to 7 p.m. Friday, July 22.
Edgewater Gallery at the Falls: "Summer Suite," through July 26, Gtoup show featuring Jim Matthews and Katie Runde, 1 Mill St., Middlebury, 802-458-0098, edgewatergallery.com
Edgewater Gallery on the Green: Jim Westphalen, through Aug. 9, "Land & Tide: Scenes from New England," photography, 6 Merchants Rowe, Middlebury, 802-989-7419, edgewatergallery.com
Middlebury College Museum of Art: "Contemporary to Classical," through Aug. 7, highlights from the New Collection Handbook; "Into the Screen," through Aug. 7, digital art from teamLab; Permanent Collection Galleries, ongoing, Mahaney Center for the Arts, South Street (Route 30), Middlebury, 802-443-5007, museum.middlebury.edu
Town Hall Theater: "Inspired by Nature: A Mother and Daughter's View," through Aug. 13, Paintings by Brenda Myrick and Barbara Lane, 68 S. Pleasant St., Middlebury, 802-388-1436, www.townhalltheater.org Opening reception, 5 to 7 p.m. Saturday, July 16.
Bethany Church: Arthur Zorn, through July 31, "Improvisation," colorful abstracts by Barre artist and musician, Chapel, 115 Main St., Montpelier, 802-223-2424, www.bethanychurchvt.org
Susan Calza Gallery: "Bubbles and the Big Head," through July 24, a meditation on plastic an exhibition by Susan Calza on view, 38 Main St., Montpelier, 802-224-6827, www.susancalza.com
The Front Gallery: Monica DiGiovanni, through July 31, Ensō painting reflecting the artist's Zen practice, 6 Barre St., Montpelier, 802-552-0877, www.thefrontvt.com Poetry reading and closing reception, 6 to 7 p.m. Friday, July 29; in-person and via Zoom.
Kellogg-Hubbard Library: "The Quarry Project," July, photographs by Susan Morse, Kitzmiller Room, 35 Main St., Montpelier, 802-223-3338, www.kellogghubbard.org
North Branch Café: Amy Hook-Therrien, through September, watercolors,41 State St., Montpelier, 802-229-5676, thenorth-branch.com
Vermont Arts Council: "Art from Guantánamo Bay," through Aug. 21, VAC Spotlight Gallery, 136 State St., Montpelier, 802-828-3293, www.vermontartscouncil.org
Vermont History Museum: "A New American Globe: James Wilson of Vermont," July 3-July 3, 2023, exhibit about Vermont cartographer James Wilson, 109 State St., Montpelier, 802-828-2291, vermonthistory.org
Vermont Supreme Court: Alisa Dworsky, through Sept. 29, "The Folded Line," drawings by Montpelier artist, 111 State St., Montpelier, 802-828-0749, curator.vermont.gov Montpelier Art Walk, 4:30 to 7 p.m. Friday, Aug. 15.
T.W. Wood Gallery: "Art of Thomas Waterman Wood," ongoing; "Works Progress Administration Artwork," ongoing, 46 Barre St., Montpelier, 802-262-6035, www.twwoodgallery.org
Green TARA Space: Sally Linder, through July 27, "Love Is," new work, 3275 Route 2 (center of village), North Hero, 802-355-2150, greentaraspace.org Artist panel discussion, 4:30 to 5:30 p.m. Saturday, July 16.
Stone Valley Arts: "An Exhibition of Women Painters: Courageous Dialogue," through Sept. 11, Stone Valley Arts at Fox Hill, 145 E. Main St., Poultney, 802-287-8197, stonevalleyarts.org
NXT Gallery: Nathan Shepard, through Aug. 12, "Oils and Gouaches," with poems by Megan Buchanan, Next Stage Arts, 15 Kimball Hill, 802-387-0102, nextstagearts.org
Chandler Gallery: "Whose New World?" through Sept. 24, Nine regional artists use a variety of media to explore social justice issues, 73 Main St., Randolph, 802-728-9878, www.chandler-arts.org
Castleton U. Bank Gallery: Castleton University students, through July 23, Leon Bates, Chrystal Bean, Lily Crowley, Jasmin Gomez, Jasper Lynch, Eileen Rounds, Yuto Sesekura, Jade McQuilkin, and Jonah Siegel, 104 Merchants Row, Rutland, 802-282-2396, www.castleton.edu/arts/art-galleries/
Chaffee Art Center: Vermont Pastel Society, through July 22, member show, 16 S. Main St., Rutland, 802-775-0356, www.chaffeeartcenter.org Artisan Market, 10 a.m. to 2 p.m. Saturdays.
Catamount Arts: "Art from Guantánamo Bay," through Aug. 21, artwork by six men detained in the U.S. military prison, Fried Family Gallery, 39 Eastern Ave., St. Johnsbury, 802-748-2600, www.catamountarts.org
Northeast Kingdom Artisans Guild: "Paint, Feathers & Bones: The Art of Cynthia Steil," through July 16, a retrospective by Ryegate artist, Back Room Gallery, 430 Railroad St., St. Johnsbury, 802-748-0158, www.nekartisansguild.com
Shelburne Museum: "Eyesight and Insight: Lens on American Art, through Oct. 16, illuminates the history of creative response to perceptions of vision; "Luigi Lucioni: Modern Light," through Oct. 16, examines the career, influences, and techniques of Italian-American artist, 6000 Shelburne Road (Route 7), Shelburne, 802-985-3346, shelburnemuseum.org
The Vault: "Of Uncommon Beauty: Floral Impressions," through July 27, by Vault's fine artists group; "Just for the Fun of It," through July 13, Open Wall show, 68 Main St., Springfield, 802-885-7111, www.galleryvault.org
Art Barn: Photographers Workroom, through Aug. 14, Annual Summer Exhibit by area artist collective, 2313 West Hill Road, Stowe, www.photographersworkroom-vt.com
The Current: Members' Art Show & Sale, through July 23, (formerly Helen Day Art Center) 90 Pond Street, Stowe, 802-253-8358, www.thecurrentnow.org
Spruce Peak Performing Arts Center: "Alternative Takes (on Human Impact)," through Oct. 31, three very different perspectives on the world in paint, collage, and graphite, by Misoo Bang, Richard Britell, and Mary Reilly, Altered Spaces Gallery, 122 Hourglass Drive, Stowe, 802-760-4634, www.sprucepeakarts.org
Tunbridge Public Library: John Douglas, through Sept. 30, "Anywhere but Here," photographs by Vershire artist, 289 Route 110, Tunbridge, 802-889-9404.
Axel's Frame Shop & Gallery: "Elemental Reduction: Shape/Color," through July 17, Jim Bruce, Tally Groves, Maurizio Molin, and Michael Montanaro; "Rock — Paper — Scissors," July 20-Aug. 6, work by emerging Vermont artists Neha Shukla and Nora McDonough, 5 Stowe St. Waterbury, 802-244-7801, www.facebook.com/AxelsFrameShopGallery/ Meet the artists, 6 to 8 p.m. Friday, July 22.