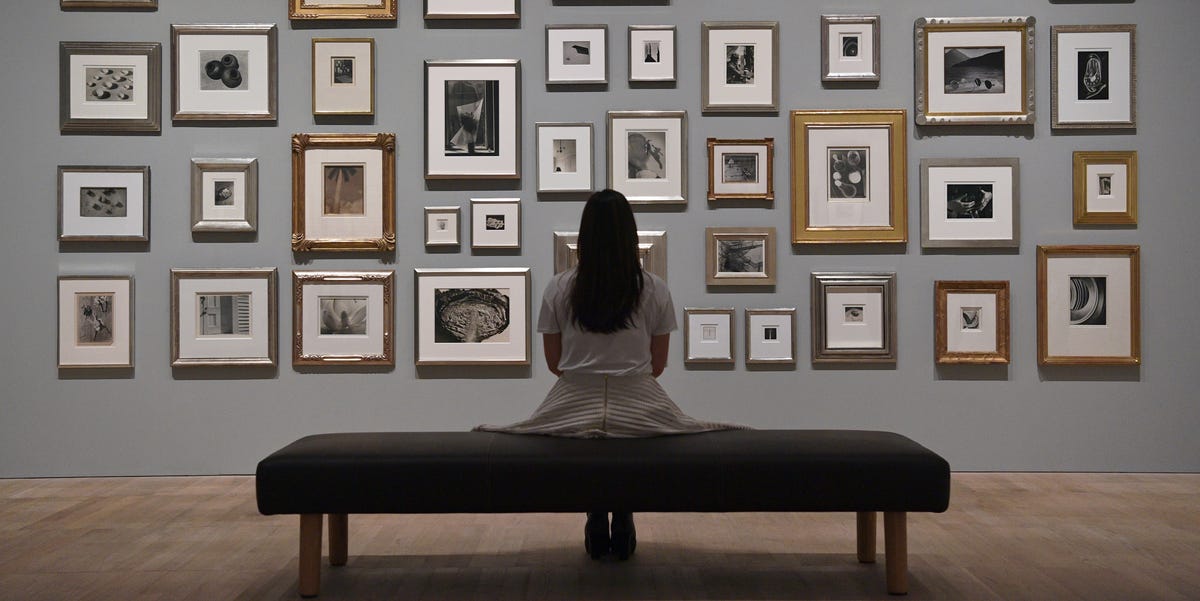 Knowing where to start with investing in art is much like staring at a blank canvas. Where to begin? What colours, compositions, subjects? The world of creative investments is, after all, an incredibly subjective one; a market propelled by value judgements. Here, you will be capitalising on matters of the heart as much as of art.
But the art world is also evolving. Besides the boom of online marketplaces and the rise of social media as a means of propelling an artist from obscurity into renown, we are also seeing the emergence of NFTs. Digital art operates in an entirely new ecosystem, which could both expand and utterly revolutionise – not to mention transport – the existing art world.
How to cut through all the noise and make the wisest decisions? We asked a roster of experts to wade into the intricacies of buying and investing in art in a rapidly shifting landscape.
1/ Always know why…
An excellent place to start is simply this: why do you want to invest in or collect art? Making your own personal motivation your starting point may seem obvious, but it should absolutely be the foundation stone of your process.
"You have to always know your why," says Natasha Arselan, who as well as being a collector of art is also the founder of the Natasha Arselan Gallery and of AucArt, an online art platform that specialises in emerging artists. "How you approach your journey of collecting and investing – what you collect, how much you spend. It all depends on your reasoning."
There is no wrong or right 'why.' Many will collect based on artistic interests, or a passion for a particular artist. "It might be interesting when building a collection if there is a specific theme or type of artist that you find that is closely related to your personal story," says Arselan. "There are a lot of collectors now collecting female painters, which is very refreshing. There is also an interest in queer identity and marginalised artists. It's amazing to see that there are a lot of Black artists being collected right now, too."
Some collectors will, of course, be spurred on by what a piece will say about them, having a work of art serve the same purpose as a designer fashion label. "There are those who will just buy the most expensive art as a way of proving their worth," says Arselan. "To be honest, there is nothing wrong with that. If that is what is important to you, that is your 'why.'"
2/ Consider supporting emerging young artists
For Arselan, a lifelong art fan, her 'why' was the opportunity to get in on the ground floor with an exciting young artist – an art school graduate who invited her to purchase a piece from their studio. It was an investment that would eventually inspire her creation of AucArt: "To be honest, I wasn't focused on investment at that point. I was going in with a purely holistic, human point of view. When I looked at this piece of work, I knew that I'd helped someone's career."
For collector and patron Valeria Napoleone, whose own initiative particularly supports female and underrepresented artists, this encouragement is paramount, and spreads beyond purchases. "I am very attracted to making an impact. I support young, talented artists because I know it will mean a lot to them at a time when no one else is looking," she explains. "You can support them in different ways – it's not just about buying the art. Through my initiative I host dinners for artists, I engage in conversation, I support publications, I connect people. Little gestures make a lot of difference. It's not always about how much money you have."
3/ Know where to look
Once you've decided why you want to invest, the next step is figuring out where to look. Lisa Schiff, the art advisor for the Leonardo Di Caprio Foundation, recommends getting involved with a non-profit organisation. "It's a great way of getting into the art world. Studio Voltaire is a fantastic example," she says, while also suggesting well-respected galleries; "Stuart Shave and Sadie Coles are always favourites for me."
"Never underestimate the power of art that is on show for free. If you take the time to go through public and commercial spaces you can see so much art – good and bad," says Martina Batovic, the UK director and contemporary specialist of Dorotheum auction house. "It's equally important to see both good and bad art, because the more you look, the more you start to see the difference, and the more you realise what resonates with you."
Arselan, naturally, recommends AucArt as a premiere destination with impeccable provenances for all its artworks. But online marketplaces are, increasingly, an excellent place to buy art. "The beauty of browsing art online is that you can look at 100 times more than you can in a gallery and your legs are a lot less tired than after trawling round an art fair," says Angie Davey, former creative director of EyeStorm. "The more you look at, the more likely you are to spot what you like, define your taste and pinpoint the piece that catches your eye."
4/ Do your research… but trust your gut
"If you like a piece, look into the artist," advises Arselan. "Things that will add value to the work are what the artist has coming up or whether you know of anyone else collecting that artist, because the art world is also about social capital. How strong is the artist's network? Has their work been written about in the press?" It also matters whether an artist is living or dead. "The guys that tend to look after the estates have quite a big monopoly over the art market, but dead artists can also have an immoveable legacy," she says. "However, the increments in which the work goes up are a lot higher for living artists. Their markets are a lot more dynamic."
But, what to avoid? What would devalue a work? "Check if the work of the artist is being flipped – if it goes up in value too quickly. That is a bad sign, because that is not generally sustainable and you can check that though the auction house results or check on Artsy to see the pricing," Arselan continues. "Other red flags are if an artist goes to auction too young, because they lose often control of their market."
Immersing yourself in the art world – from openings and small shows to magazines (like ArtForum and the FT Weekend arts section or, of course, Bazaar's culture sections and annual Bazaar Art magazine) – is a great way to keep abreast of developments and fully appreciate where a particular work may sit in an existing ecosystem. "The more you engage with it, the more you're going to learn the way of it and, almost by osmosis, you'll learn the best artists to invest in or what you feel most connected to," says Arselan.
Ultimately, however, it's important to go with your gut instinct. "My first ever purchase was in London, a little print of Bedford Square. It was a memory of the time I had there and the journey I had coming to London," says Batovic. "I'm sure it's completely worthless, but to me it's very precious. It was the beginning of something that mapped out a journey and the career that was to come."
5/ Explore NFTs
The biggest development in the art world is, of course, the arrival of NFTs – an often confusing and strange new addition. Jonathan Bixby, Executive chairman of NFT Investments was himself initially perplexed by their arrival. He describes them as akin to Pokemon cards and Beanie Babies – you may not see the appeal, but the market is still aflame for them. "If enough people believe in something, it's real. It's no different than the British Pound or the value of the Mona Lisa," he says. "The revolution of NFTs is simply that belief going digital and going global."
Bixby believes that someone approaching NFT collecting needs to differentiate between what he sees as two camps of the phenomenon: collectibles and digital art. "It is like owning original Star Wars memorabilia and a Basquiat," he says. "Both can be worth a hell of a lot of money…"
"There are a billion people on the planet that are spending roughly 20 hours a week on games, on their phones, on their Playstations, in their VR headsets, or – soon – in the Metaverse," says Bixby. "That group of people is young and is growing exponentially. And so, the question that we ask is, does that market prefer physical art or digital art? The answer is digital."
But, aside from the potential lucrative benefits of NFTs, Bixby is quick to point out how they can change the art world in a good way – by empowering artists. "It is incredibly democratic," he says. "The artist doesn't have to have the intermediary anymore. The code in an NFT allows you to have full transparency so you can see exactly who owns your art and what is being paid for it. It's pretty game-changing for artists."
6/ Remember… it should be fun
There are obviously practical considerations to collecting and investing art, from storage to insurance. You should also ensure you set a budget – one that makes sense for you – and make sure you try and keep within that. If you intend to build a collection, also think about how often you want to add to that – monthly, yearly? But, ultimately, remember that art should be as much about the emotional side of it as the fiscal.
"Always remember, it's a fun asset," says Arselan. "There's an emotive and social side of art. Plus, when you collect something from an artist at the very beginning of their career and you then see them doing well, it's amazing. It's an exciting journey to be on."
This content is created and maintained by a third party, and imported onto this page to help users provide their email addresses. You may be able to find more information about this and similar content at piano.io