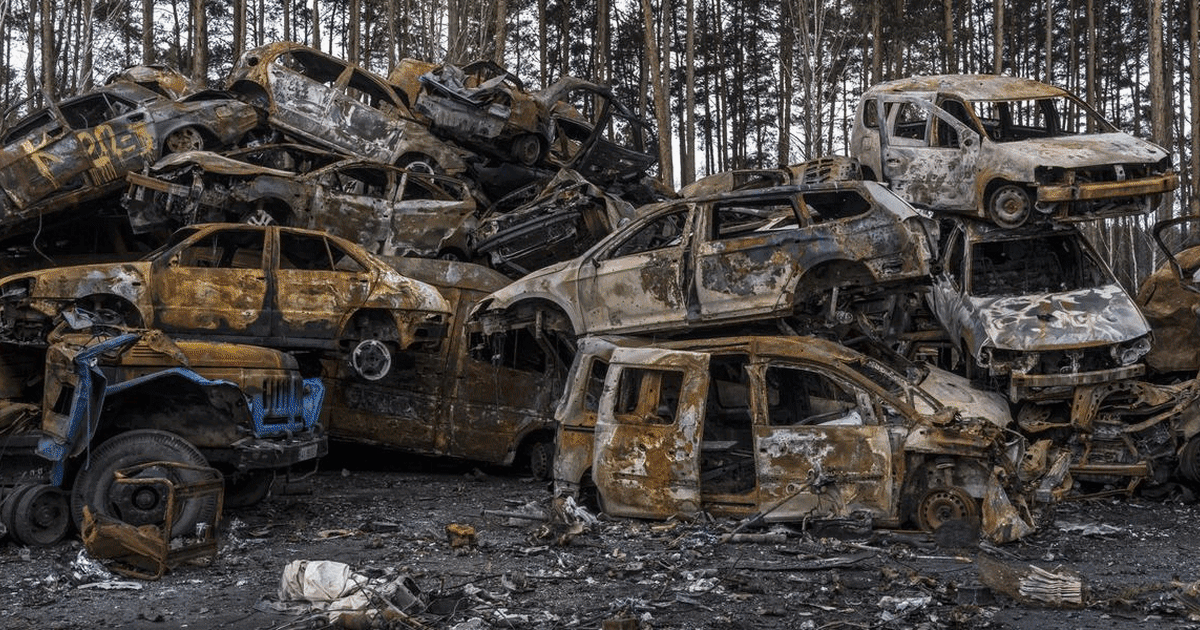 Odesa governor says Ukraine shot down three Russian missiles over region
KYIV, Ukraine — Maksym Marchenko, the governor of the Odesa region, said that the Ukrainian air defense had shot down three Russian missiles over the region.
The attempted strike comes less than a week after the Russians struck an apartment complex in Odesa, killing at least eight and injuring at least 18 others. A mother and baby were among the dead.
The Russians also hit a bridge near Odesa on Tuesday. Marchenko believed they aimed to cut off a portion of the larger Odesa administrative region. A second missile landed nearby and another landed in the water.
"Thank God there are no victims," Marchenko said.
Russian leaders have said recently that they aim to take over the entire Ukrainian coastline, likely aiming to connect to the Russian-occupied region of Transnistria.
Two missiles strike hit Kyiv as UN Secretary General visits city
KYIV, Ukraine — Two missiles struck Kyiv on Thursday evening, but information about potential victims remains unclear.
Kyiv Mayor Vitalii Klychko said Thursday that Russia had fired two missiles on the Shevchenkivskyi district, known to be home to a group of universities and art galleries near the center of the city, but said "all services are in place."
Svitlana Vodolaga, a spokeswoman for the State Emergency Service, confirmed the strikes and said there were victims. The missiles had hit on the first floor and people were above it.
The attack comes as United Nations Secretary General Antonio Guterres was visiting the city and witnessed the damage caused to suburbs and towns surrounding Kyiv. Guterres made the trip after traveling to Russia, where he met with Russian President Vladimir Putin.
Andrii Yermak, the head of Ukrainian President Volodymyr Zelenskyy's office, said on his Telegram channel that Russia must be stripped of its veto power on the UN Security Council.
Mykhailo Podolyak, an adviser to President Volodymyr Zelenskyy, sent a jab toward Guterres on Twitter for meeting with Putin and also called for Russia to be removed from the Security Council.
"The day before he was sitting at a long table in the Kremlin, and today explosions are above his head," he said. "Postcard from Moscow?"
Ukraine's prosecutor identifies 10 Russian soldiers accused of atrocities
KYIV, Ukraine — Ukraine's prosecutor on Thursday identified 10 Russian soldiers she accused of atrocities in the Kyiv suburb of Bucha, one of the war's major flashpoints that helped galvanize Western support of Ukraine.
Prosecutor General Iryna Venediktova said on Facebook that the 10 soldiers in Russia's 64th Separate Motorized Rifle Ground Forces Brigade who occupied Bucha were "involved in the torture of peaceful people." She did not specifically say that her office had filed criminal charges, and appealed to the public to help develop evidence.
The 10 suspects included officers as high as a general, as well as privates. The Russian government denies it targets civilians. Russian President Vladimir Putin recently honored the brigade's work, and Venediktova said he bears responsibility for the soldiers' actions as their commander-in-chief.
"During the occupation of Bucha, they took unarmed civilians hostage, killed them with hunger and thirst, kept them on their knees with hands tied and eyes taped, mocked and beat them," Venediktova said.
She added that the Russian soldiers threatened to shoot the hostages and looted houses.
U.N. Secretary-General António Guterres, visiting Bucha on Thursday, called for a thorough investigation of alleged war crimes. Ukrainian authorities have said they are investigating thousands of possible war crimes, including killing of civilians, bombing of civilian infrastructure, torture, sexual crimes and use of prohibited weapons.
Biden rejects notion of proxy war with Russia
WASHINGTON — President Joe Biden is rejecting the idea that Russia's war in Ukraine could grow into a larger proxy conflict between Moscow and the United States and NATO allies that may even bring the world closer to nuclear confrontation.
At an event at the White House where Biden asked Congress for an additional $33 billion to aid Ukraine, the president said Thursday that the idea of a larger proxy war was concerning but "not true."
He blamed Russian authorities for exaggerating such speculation, saying "it shows the desperation that Russia is feeling about their abject failure" with the invasion of Ukraine.
"Instead of saying that the Ukrainians, equipped with some capability to resist Russian forces, are doing this, they've got to tell their people that the United States and all of NATO is engaged," Biden said.
He added that "no one should be making idle comments about the use of nuclear weapons" and called doing so "irresponsible."
Biden asks Congress for additional $33 billion in aid for Ukraine
President Biden called on Congress Thursday to provide $33 billion in aid for Ukraine, funding that would go toward security, humanitarian and economic assistance.
The aid would benefit both Ukraine and America's allies in NATO and the EU, Biden said. The request comes a week after he announced an additional $800 million in security assistance funding for Ukraine.
The majority of the proposed $33 billion — over $20 billion — would be allocated to security and military assistance. Biden said this request comes at a "very pivotal moment" for Ukrainian citizens.
"The price they pay is with their lives for this fight," Biden said. "So, we need to contribute arms, funding, ammunition and the economic support to make their courage and sacrifice have purpose so they can continue this fight and do what they're doing."
A first-hand look at the effect the war is having on Ukrainian kids
Most Americans see China-Russia partnership as serious problem, poll finds
A majority of Americans are very concerned about Russia's relationship with China, which has refrained from condemning its actions in Ukraine, according to the results of a Pew Research Center poll released Thursday.
More than 90 percent of respondents said the China-Russia partnership is a "somewhat serious" or "very serious" problem for the U.S., the poll found. That is higher than the percentage who said the same for six other issues related to U.S.-China relations, including China's policies on human rights, economic competition with China, tensions between China and Taiwan and Beijing's policies in the Chinese territory of Hong Kong.
The survey of 3,581 U.S. adults was conducted March 21 to 27.
Negative views of China have also increased six points since last year, with 82 percent of respondents expressing unfavorable opinions. Two-thirds said they viewed China as a major threat, similar to the proportion who said the same about Russia in a separate poll. But respondents were more likely to describe China as a competitor than an enemy, whereas the proportion of Americans describing Russia as an enemy has surged since the invasion of Ukraine.
China and Russia reaffirmed their "no limits" friendship at a meeting in Beijing shortly before the Feb. 24 invasion, but analysts caution the relationship is more complicated than it appears. Secretary of State Antony Blinken, speaking to lawmakers this week, criticized China's apparent support for Moscow but acknowledged he had seen no evidence that Beijing was helping it undermine sanctions, Reuters reported. 
Germany must prepare for Russia to cut off gas supply, Chancellor Scholz says
Germany is preparing for Russia to cut off gas exports to the country, German Chancellor Olaf Scholz said on Thursday during a trip to Tokyo.
"If and what decision the Russian government will take in this regard, one can only speculate, but it makes little sense," he said at a joint news conference with Japanese Prime Minister Fumio Kishida.
"One has to prepare for it and, as I said, we had already started to do this before the war broke out and we know what we have to do and as I just said that is exactly what we will do."
Russia on Wednesday cut off gas supplies to Poland and Bulgaria, both members of the European Union and NATO.
The chancellor also said that Germany would provide training for Howitzer tanks sent by the U.S. to be used in Ukraine.
Russia planning 'sham referenda' in Ukraine's south and east, U.S. official warns
Russia is planning to stage "sham referenda" in territory it has conquered in the south and east of Ukraine "in an attempt to lend a semblance of legitimacy" to its occupation of these areas, the U.S. ambassador to the Organization for Security and Co-operation in Europe warned on Thursday.
"Russia's planning for its further invasion of Ukraine includes a forced capitulation of Ukraine's democratically elected government, including dissolving all local municipal governments in Ukraine," Ambassador Michael Carpenter said, according to remarks posted to the U.S. OSCE Mission website.
He called the plans "straight out of Russia's playbook," citing the "Kremlin orchestrated so-called referenda in the Ukrainian regions of Crimea, Luhansk, and Donetsk — each time with faked high percentages of public support."
Carpenter also warned that Russia may intensify forced transfers of residents in Ukraine's south and east to Russia or Russia-controlled parts of the Donbas "via so-called 'filtration camps.'"  
Building coffins in Lviv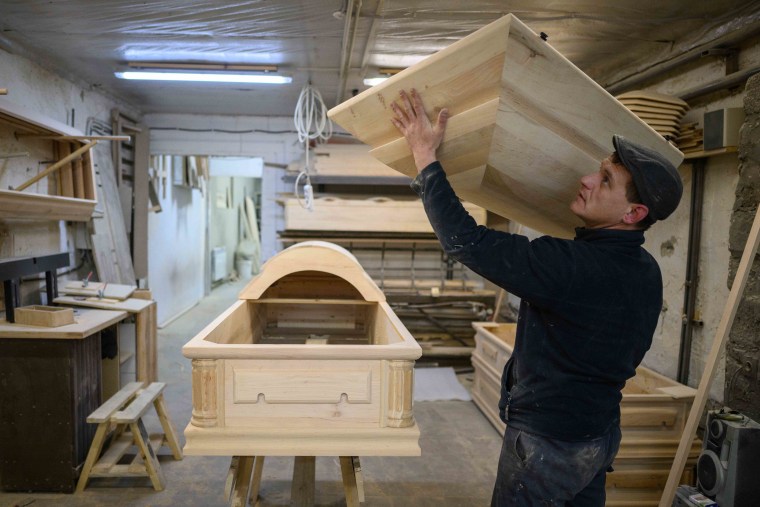 Biden to announce plans to make it easier to seize Russian assets
President Joe Biden on Thursday is expected to announce new legislative proposals that would make it easier for the Untied States to "hold the Russian government and Russian oligarchs accountable for President Putin's war against Ukraine," according to a fact-sheet shared by the White House.
The proposals establish new authorities that would streamline the process for seizing assets from sanctioned Russians, expand the assets that are subject to seizure and allow the proceeds of forfeited funds from Russian oligarchs to be transferred to Ukraine. 
These proposals will be announced Thursday in addition to a new supplemental aid package for Ukraine.
So far, the Treasury Department has frozen hundreds of millions of dollars of assets belonging to Russian elites in U.S. bank accounts, according to the White House. European Union members have also reported freezing over $30 billion in assets, including almost $7 billion in boats, helicopters, real estate and artwork.
Unsanitary conditions in Mariupol put 100,000 in moral danger, officials warn
Unsanitary conditions in the Black Sea port city of Mariupol have put 100,000 in mortal danger, the city council said Thursday in a post on Telegram.
"Already the air temperature reaches 20 degrees [Celsius, or 68 Fahrenheit]," the statement said. "Powerful and deadly epidemics may soon break out in the city due to the lack of centralized water supply and sewerage, the decomposition of thousands of corpses under the rubble, a catastrophic shortage of drinking water and food."
NBC News cannot independently verify these claims.
Mariupol, now mostly under the control of Russian forces, was encircled for weeks with supplies of food, water and other basic necessities running short. The strategically important city has been the focus of Russian attacks. 
People return to devastation in Irpin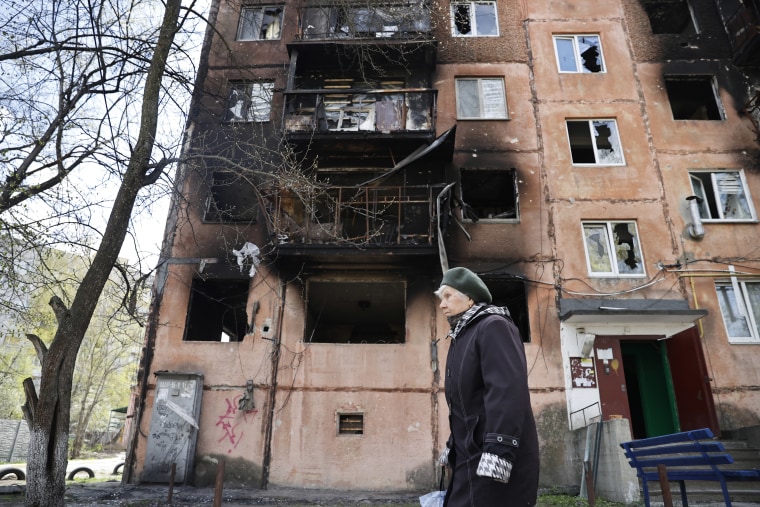 A chilling Russian cyber aim in Ukraine: Digital dossiers
Russia's relentless digital assaults on Ukraine may have caused less damage than many anticipated. But most of its hacking is focused on a different goal that gets less attention but has chilling potential consequences: data collection.
Ukrainian agencies breached on the eve of the Feb. 24 invasion include the Ministry of Internal Affairs, which oversees the police, national guard and border patrol. A month earlier, a national database of automobile insurance policies was raided during a diversionary cyberattack that defaced Ukrainian websites.
The hacks, paired with prewar data theft, likely armed Russia with extensive details on much of Ukraine's population, cybersecurity and military intelligence analysts say.
Read the full story here.
'Still standing': Azov Battalion says it's holding Mariupol position under heavy fire
Russian forces have continued to strike the last remaining Ukrainian troops holding the besieged city of Mariupol at the Azovstal steel plant, according to Sviatoslav Palamar, the deputy commander of Azov Battalion.
Overnight, Russian forces fired rockets and artillery at the holdouts, he said. The troops are "still standing, holding position, but it's hard," he said.
"Who will answer, why are we all alone, against aircrafts and ships, against artillery," he added.
The strikes killed and wounded soldiers at the plant, the battalion wrote in a post on Telegram.
The Azov Battalion is a far-right volunteer force that is widely considered one of the country's most capable units. 
Russia warns Ukrainian strikes on Russian land will lead to "harsh response"
The Russian foreign ministry said Thursday that Ukrainian strikes in Russia "will be met with a harsh response."
The warning, made by Russian foreign ministry spokeswoman Maria Zakharova at a weekly briefing, comes after fires broke out Monday at an oil storage facility in a city not far from the Ukrainian border. On Wednesday, Russian officials reported a fire at an armory in Belgorod, Russia, and reports of drones in two other areas near the border with Ukraine.
Her comments came as Ukrainian presidential adviser Mykhaylo Podolyak defended Ukrainian strikes inside Russia.
"Ukraine will defend itself in any way, including strikes on the warehouses and bases of the killers," he wrote on Twitter. "The world recognizes this right."
Photos show Trevor Reed after landing home in Texas
Trevor Reed landed at Kelly Field airport in San Antonio early Thursday. Rep. August Pfluger, R-Texas, shared photos after Reed's arrival.
Read the full story here.
U.N. chief reiterates support for war crimes investigation during Kyiv visit
U.N. Secretary-General António Guterres reiterated his support for a war crimes investigation Thursday during a visit to Kyiv and the suburb of Bucha, where he viewed an emptied mass grave.
"When we see this horrendous site, it makes me feel how important it is a thorough investigation and accountability," he said in the town where hundreds of people killed or died when the Russians invaded.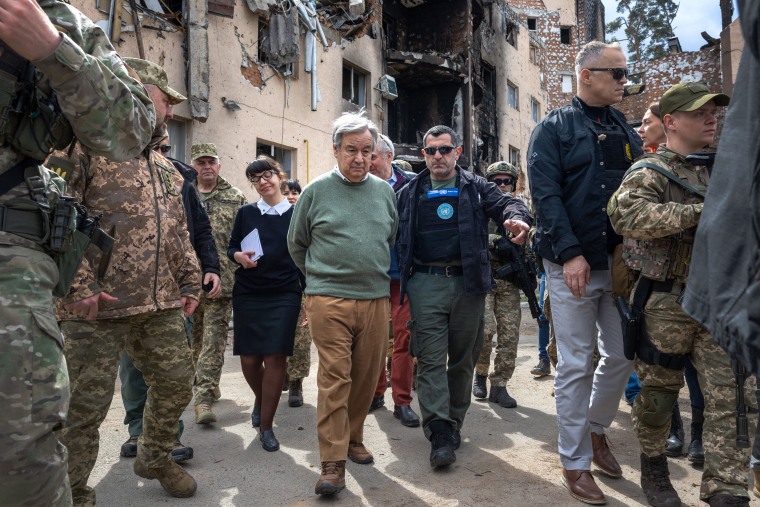 Earlier this month, Guterres called for an independent investigation in Bucha. While viewing the destruction wrought during the war Thursday, the U.N. chief also said that he could imagine his own family running from the conflict.
 "I imagine my family, in one of those houses, now destroyed and black," he said. "I see my granddaughters running away in panic."
Only shoes remain of Ukrainian-Russian friendship statue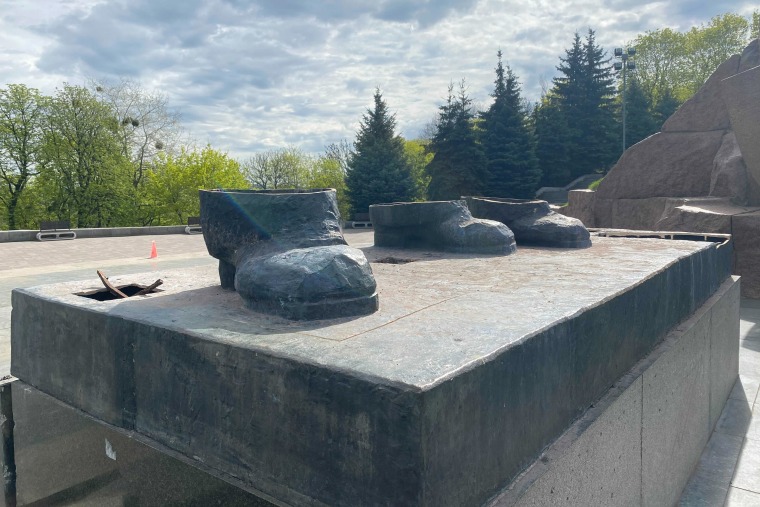 KYIV, Ukraine — Only the shoes remain of a 27-foot bronze statue that portrayed a Ukrainian worker and a Russian worker holding up a Soviet order of friendship.
Built in 1982 beneath the "People's Friendship Arch," another Soviet-era symbol of the two countries' close ties, the statue was taken down by workers this week as the war between Russia and Ukraine entered its third month.
"We now see what this 'friendship' is — destruction of Ukrainian cities … killing tens of thousands of peaceful people," Kyiv Mayor Vitaly Klitschko told Reuters on Tuesday. "I am convinced such a monument has an entirely different meaning now."
The workers started by cutting the statues' necks, and now the image of one severed bronze head on the ground has slowly become a symbol here. When the rest of the statue was removed from its plinth, sans its shoes, a crowd that had gathered reportedly yelled "Glory to Ukraine."
Vehicles piled high in Irpin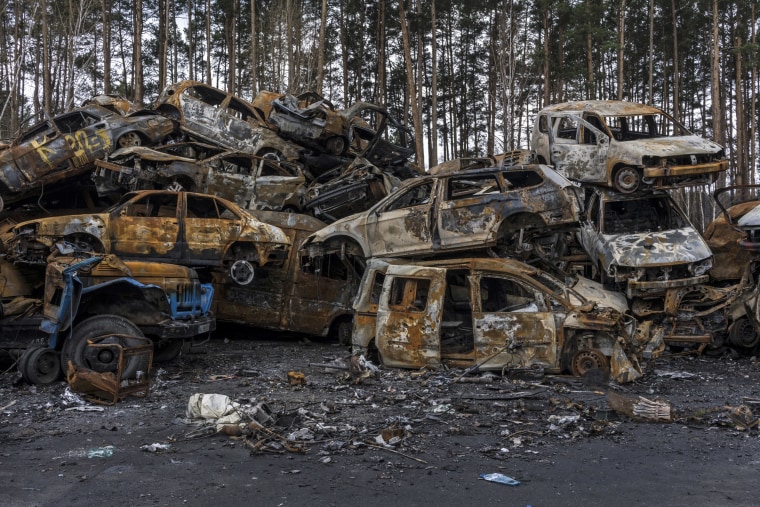 German Parliament approves petition to deliver heavy arms to Ukraine
Germany's Bundestag lower house of parliament on Thursday overwhelmingly approved a petition on support for Ukraine backing the delivery of weapons, including heavy arms to the country, to help it fend off Russian attacks.
"Alongside the broad economic isolation and decoupling of Russia from international markets, the most important and effective means to stop the Russian invasion is to intensify and speed up the delivery of effective weapons and complex systems including heavy arms," the petition read.
U.N. Secretary General arrives in Ukraine
Trevor Reed lands back in U.S. after release from Russia
Trevor Reed, the former Marine who was released in a prisoner exchange with Russia on Wednesday, has landed back in the United States.
"I will confirm that he's landed back in the United States, but not where," Jonathan Franks, a spokesman for Reed's family, said in a statement to NBC News.
The family have asked for privacy while Reed, 30, addresses "the myriad of health issues brought on by the squalid conditions he was subjected to in his Russian gulag."  
'Ukraine is … a slaughterhouse': Amal Clooney pushes for Ukraine war crimes justice
Biden to visit South Korea, Japan next month in first Asia trip
President Joe Biden will visit South Korea and Japan next month in his first trip to Asia since taking office last year, as he seeks to maintain a united front against Russia's military actions in Ukraine.
During the May 20-24 visit, Biden will meet with both Yoon Suk Yeol, the incoming president of South Korea, and Japanese Prime Minister Fumio Kishida, White House press secretary Jen Psaki said in a statement. While in Tokyo, the president will also meet with leaders of the Quad, an informal security grouping made up of the U.S., Australia, India and Japan.
South Korea and Japan, U.S. treaty allies that host large numbers of American troops, have both joined financial sanctions against Russia. In addition to the conflict in Ukraine, Yoon, Kishida and Biden are expected to discuss growing threats from China and North Korea.
NATO expects Finland and Sweden's quick ascension to the alliance
NATO Secretary-General Jens Stoltenberg said Thursday he expects the process of Finland and Sweden's acceptance to the alliance will be quick should they choose to apply.
The two countries are close partners of NATO, he said, and will be "welcomed with open arms."
"We know that their armed forces meet NATO standards, are interoperable with NATO forces. We train together. We exercise together," Stoltenberg said.
Aid handouts in Kharkiv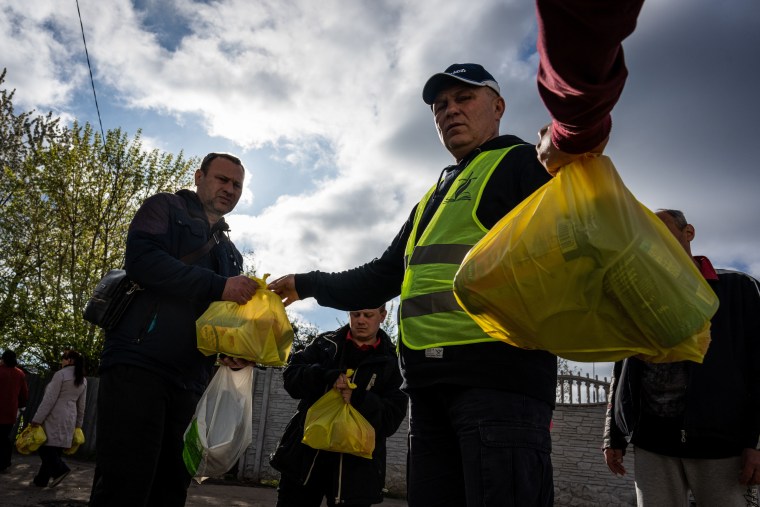 At least 4 people killed in Russian strikes
Russian strikes in civilian areas killed four people in the span of 24 hours, according to Serhiy Haidai, the head of the Serhiy Haidai Luhansk Regional State Administration.
NBC News has not verified those deaths, and Haidai did not specify what kind of attacks led to the deaths.
He wrote in a Telegram post that Russia bombarded the cities of Popasna, Lysychansk and the Hirske Community. About 10 houses were destroyed in Popasna, he said.
In Donetsk, National Police said that 22 settlements were fired upon, leaving at least 30 civilian facilities destroyed, including multiple residential buildings and a school.
Putin may try to widen conflict, U.K. defense secretary says
Russian President Vladimir Putin may try to broaden the conflict in an effort to distract from Russia's failures in Ukraine, British Defense Secretary Ben Wallace said Thursday.
"You've seen the saber rattling and the threats from Putin about effectively broadening conflict, which is clearly something he would like to do," he told the BBC. "He's in a hole and I think he definitely realizes one of the ways he thinks he can get out is to pull people into it."
Wallace also said that it would be legitimate for Ukrainian forces to target Russian supply lines, but they were unlikely to use British weapons to do so.
"If Ukraine did choose to target logistics infrastructure for the Russian army, that would be legitimate under international law," Wallace said.
Russia 'exerting intense fire' in all directions, Ukraine says
Russia has ramped up its offensive in Ukraine, with ground and air units exerting "intense fire" in all directions, Ukraine military spokesman Oleksandr Shtupun said Thursday.
"Russian enemy increases the pace of the offensive operation. In almost all directions, the Russian occupiers are exerting intense fire," he said in an operational update.
According to Shtupun, Russia is seeking to establish complete control over the eastern territories of Donetsk and Luhansk, increasing its aerial presence over multiple villages there.
Kharkiv is also under heavy artillery fire, he said, with Russia moving additional airborne and technical units toward the Izyum city.
Biden to ask Congress for new Ukraine aid package Thursday
President Joe Biden will request Congress fund a new supplemental aid package for Ukraine during remarks from the White House on Thursday morning, two sources familiar with the matter told NBC News.
The extra funding is intended to last for the next five months, through the end of the fiscal year, the sources said. Administration officials earlier described the amount of the request as "massive" but would not provide a specific dollar amount. Some details were still not finalized, the officials said.
The military aid is expected to include capabilities Ukraine could use now and equipment for the longer term.
Read the full story here.
Aftermath in Kharkiv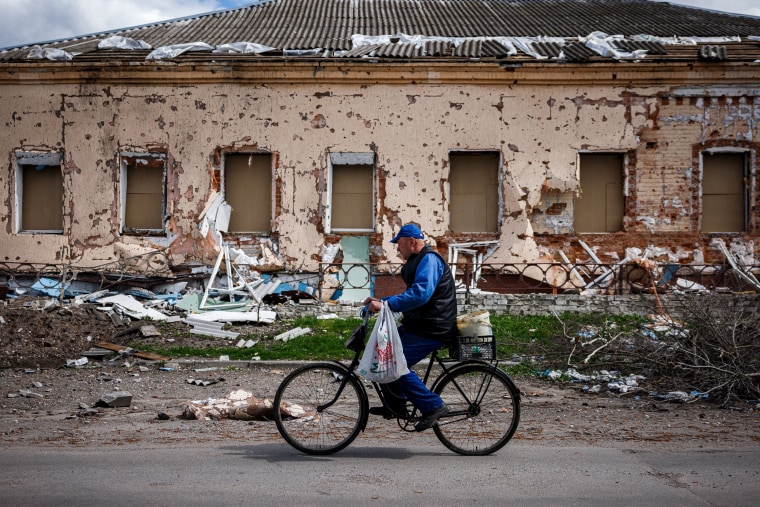 Explosions boom in Russian-occupied city of Kherson
In the southern Ukrainian city of Kherson, a series of explosions boomed near the television tower late Wednesday and at least temporarily knocked Russian channels off the air, Ukrainian and Russian news organizations reported.
The Russian state news agency RIA Novosti said missiles and rockets were fired at the city from the direction of the Ukrainian forces to the northwest. NBC News has not independently verified the allegation.
Kherson has been occupied by Russian forces since early in the war. Russia has been determined to strengthen its control over the city, but residents have continued to come out onto the streets to protest the occupation.
Russian navy can still strike Ukraine, has 20 vessels in Black Sea, U.K. says
The Russian navy is still able to hit Ukrainian targets from the Black Sea despite the high-profile loss of its fleet's flagship, the British defense ministry has said.
"Despite the embarrassing losses of the landing ship Saratov and cruiser Moskva, Russia's Black Sea Fleet retains the ability to strike Ukrainian and coastal targets," it said in an intelligence update Thursday.
The ministry said there are approximately 20 Russian naval vessels in the Black Sea operational zone, including submarines.
Germany bought most Russian energy during first months of Ukraine war, study finds
An independent research group says Germany was the biggest buyer of Russian energy during the first two months of the war in Ukraine.
A study published by the Centre for Research on Energy and Clean Air calculates that Russia earned $66.5 billion from fossil fuel exports since Russian troops attacked Ukraine two months ago.
Using data on ship movements, real-time tracking of gas flows through pipelines and estimates based on historical monthly trade, the researchers reckon Germany paid Russia about $9.57 billion for fossil fuel deliveries in the first two months of the war.
The German government said it can't comment on estimates, and it declined to provide any figures of its own.
Zelenskyy calls Russia cutting off gas to Poland 'blackmail'