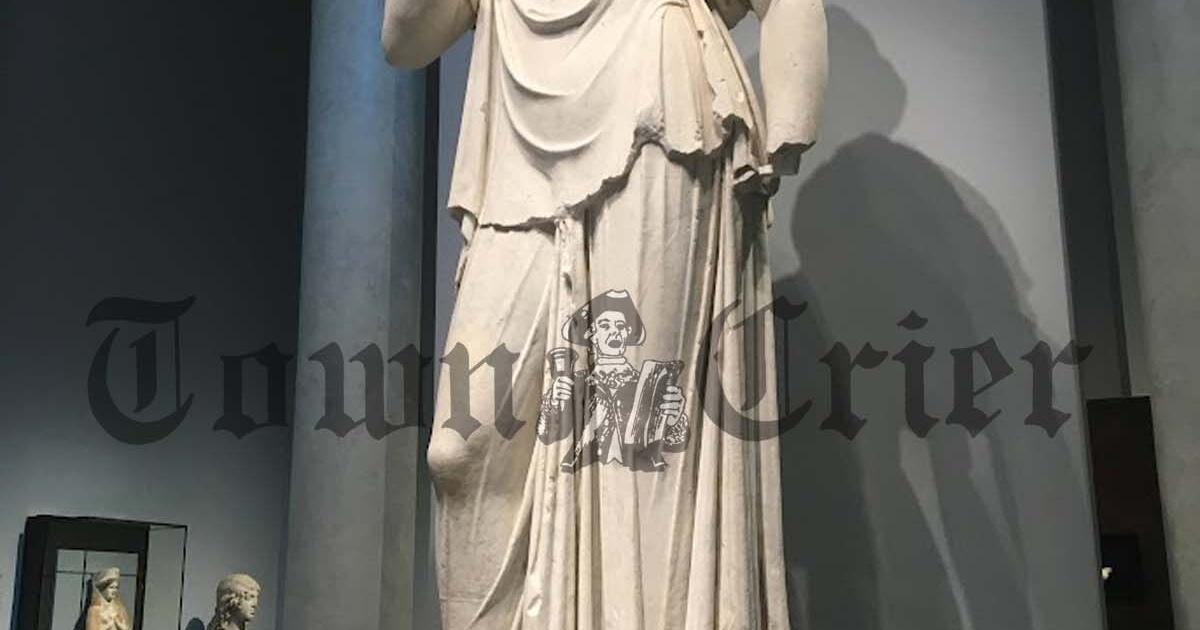 The Museum of Fine Arts in Boston is back from the pandemic and better than ever. Tucked against the Back Bay Fens on Huntington Ave­nue, the museum continues to reinvent itself for today's museum goer.
The recently renovated Greek and Roman wing takes on the ancient world while offering visitors a chance to consider a modern perspective. How will future historians understand contemporary currency in our increasingly cashless society in comparison to how we view Byzantine coins today? How do we reconcile our museum-going experience with the legacy of antiquities theft?
The galleries attempt to combat through pigment analysis the "myth of clas­sical whiteness" — an­cient marble statues, of­ten used as the model of ideal beauty, were in fact originally brightly painted and reflected a diverse society. However, many white supremacists and white nationalist groups have used the marble statues' current state to justify their claims that the Greeks and Romans were white, though this concept of race did not exist in the ancient world. A digital reconstruction of the mu­seum's Athena Parthenos statue shows visitors what she might have looked like thousands of years ago, and goes through the scientific processes used to uncover the statue's past.
The Art of the Americas galleries also encourages visitors to think critically about what they see — and what they don't see. An empty frame hanging among handsome portraits by John Singleton Copley and Gilbert Stuart asks us to consider who is missing from the Ameri­can story on the walls, such as those who were too poor to afford a commissioned painting or were not celebrated for heroism in their own time.
Other works by contemporary artists are interspersed in the gallery, in­cluding a portrait by Ke­hinde Wiley, who painted President Barack Obama for the National Portrait Gallery.
The museum is also fo­cusing on bringing broader language access to its permanent collections through its descriptive texts next to art. The Am­ericas gallery includes labels in the most common languages spoken in Boston — including Eng­lish, Spanish, Chinese, Hai­tian Creole, and Por­tuguese — as well as the area's indigenous Waba­naki language. Visitors are able to listen to and access these translations through the MFA's app — a handy tool to enhance the museum experience through audio and video tours.
All your museum favo­rites are still waiting for you: the mummies of Egypt lie in their sarcophagi, the grand Art of Europe hall towers with hunting art, and the cloud of styrofoam cups glows in the contemporary art wing. The recently renovated Dutch and Flemish galleries bring visitors into the worlds of some of the masters, and just down the hall, the Impression­ists are brighter than ever, presenting Monet's water lilies and delicate pointillist paintings.
Standing in front of Ren­oir's "Dance at Bougival," depicting a man and w­oman dancing at a cafe, one is struck by the im­mortality of the subjects, captured forever in tab­leau for millions and millions to observe and enjoy for centuries. The museum continues to delight, ex­cite, and inspire, successfully bridging the old and the new for a nu­anced, thoughtful experience.
Visit mfa.org to book a ticket and make sure to check your local library ahead of time to reserve a discounted museum pass.