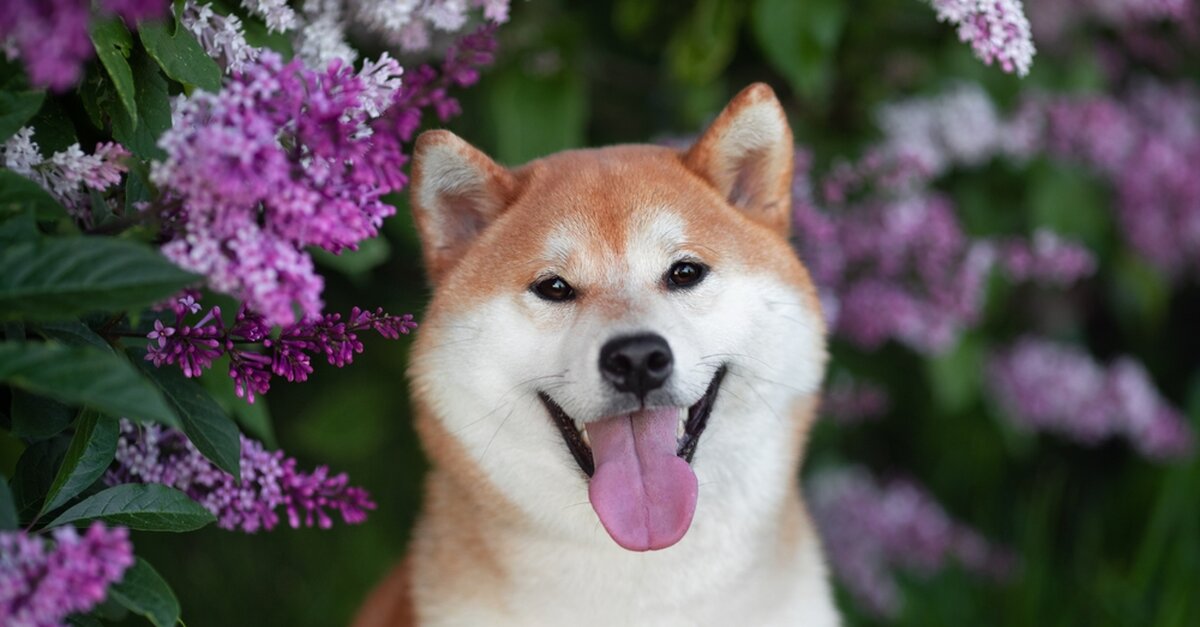 The bonk (BONK) cryptocurrency, a Solana-based meme token, has soared in price following its launch last month and airdrop to a group of Solana non-fungible token (NFT) holders.
The BONK price soared by 4,394% from 30 December 2022 to its peak on 5 January 2023, according to CoinMarketCap. Those gains had moderated at the time of writing (6 January 2023) and the token was trading down by 70% from this high, but that was still up by 1,251% from the launch price.
If you're interested in BONK as an investment, you might want to know how many BONK coins are available on the market to buy. It is also important to know the identity of the largest holders and how many coins they control, as their actions to buy, sell or burn tokens can affect the price.
What is Bonk, how does it work, and how many BONK coins are there in circulation? In this article we look at the project and its biggest holders.
What is the BONK crypto token?
Launched on 25 December by an anonymous community development team, BONK is described as "the first Solana dog coin for the people" – a reference to the popular meme coins, such as dogecoin (DOGE), shiba inu (SHIB) and floki (FLOKI), that have developed from social media communities and are based on the Shiba Inu "doge" internet meme.
While those tokens run on their own blockchains, or on the Ethereum network, the bonk token runs on the Solana (SOL) blockchain.
SOL to USD
Solana has seen many projects leave the network in the wake of the collapse of the FTX cryptocurrency exchange and sister company, quant trading firm Alameda Research, as FTX's founder Sam Bankman-Fried had been a major solana backer. According to the Bonk project:
"The BONK contributors were tired of toxic 'Alameda' tokenomics and wanted to make a fun meme coin where everyone gets a fair shot. We aim to bring back liquidity to Solana [decentralised exchanges] DEXs."
Several of the remaining NFT projects on Solana have already integrated bonk tokens for use as payment.
How many BONK coins are there?
How does bonk's tokenomics model work and how many BONK coins are in circulation?
According to the project's whitepaper – or bonkpaper as it calls it – the Bonk project intends to "benefit from lessons learned by preceding community coins", and it also aims "to adopt their strengths while avoiding their weaknesses".
"In particular, Bonk strives to provide superior distribution mechanics to its predecessors, by distributing coins to community members most likely to harness Bonk's true utility. To that end, Bonk will airdrop a total of 50% of the entire supply (50 trillion tokens of the total 100 trillion) into fourdistinct groups."
In total, Bonk's supply of 100 trillion tokens is broken down as follows.
20% was distributed among 40 active Solana NFT projects with more than 296,000 individual NFTs between them. The airdrop was spread between collections with high, middle and low market capitalisations to prevent tokens only being held by owners of expensive NFTs.

20% has gone to Bonk's 22 early contributors in a three-year linear token vesting period that started on 1 January 2023.

15% is allocated to users of the OpenBook trading platform.

15% will be used by the Bonk decentralised autonomous organisation (DAO).

10% is going to artists and collectors of unique, 1/1 NFT art.

5% will reward developers on the Solana blockchain with what "will hopefully be the first of many airdrops towards Solana developers going forward", said Bonk.

5% has been set aside for future contribution and development incentives. Each month over a five-year period, 83.3 billion tokens will be allocated to contributors and subject to a three-year vesting that begins six months later.

5% is being used for initial liquidity distributions on DEXs Raydium and Orca, decentralised finance (DeFi) protocol Solend, as well as other platforms including FFFlip, Monaco protocol and Boibook.

Finally, 5% will be used for marketing.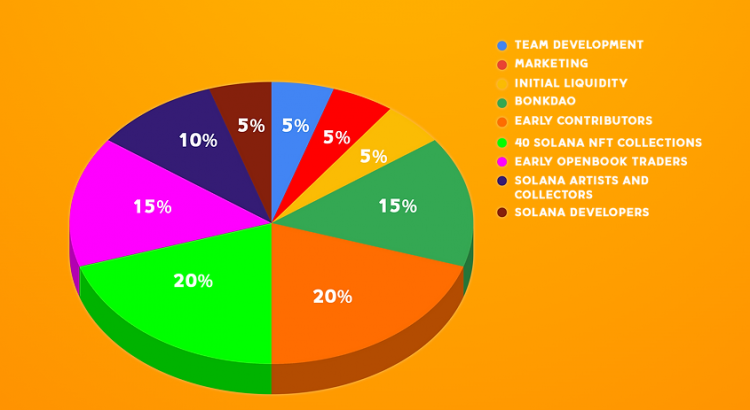 The breakdown of how the 100 trillion BONK will be distributed – Credit: Bonkcoin.com
How many BONK coins are available now?
There are currently 56 trillion BONK tokens in circulation in the world, according to CoinMarketCap data. And according to data analytics platform SolScan, the token's supply totalled 94.15 trillion at the time of writing on 6 January. The token had a market capitalisation of $145.93m.
How many BONK coins are there among the largest wallets?
According to SolScan, the largest Bonk token holder at the time of writing is the Bonk MultiSig Wallet, which holds 15% of the supply, valued at more than $23.25m. The Bonk Treasury holds 9.5594%, valued at $13.95m. And the next largest wallet holds a total number of BONK coins of 4.425 trillion, equivalent to 4.7% of the supply.
The Huobi crypto exchange holds 3.0594% of supply, with 2.88 trillion tokens valued at the time of writing at $4.46m. The Gate.io exchange rounds out the top five with 1.05 trillion tokens accounting for 1.1144% of supply and $1.63m.
The MEXC exchange is the next largest holder with 992.96bn tokens, valued at $1.5m. The remaining four largest wallets in the top 10 each hold 954.76bn tokens, equivalent to 1.0140% of supply and $1.48m.
After the BONK price fell on 5 January, the Bonk development team burned a total of five trillion tokens. Burning tokens permanently removes them from circulation, reducing supply, in an attempt to support the price.
$BONK represents the best of Solana. Our community is working together across the ecosystem to make positive change for all of us.

The 5 Trillion $BONK tokens allocated to "The Team" have been burned. pic.twitter.com/g7w62sdKhb

— Bonk! (@bonk_inu) January 5, 2023
Some of the NFT artists and developers have also burned tokens after receiving their airdrops following the launch.
The BONK price climbed intraday on 5 January in response to the token burn, rising from $0.000002255 to $0.000003314 before sliding lower.
Are you interested in becoming a BONK holder?
If you are considering investing in the new bonk token, we recommend that you do your own research to develop an informed view of the cryptocurrency market. Look at the latest market trends, news, technical and fundamental analysis, and expert opinion before making any investment decision. Keep in mind that past performance is no guarantee of future returns. And never trade money you cannot afford to lose.
FAQs
How many BONK coins are left?

There were 56 trillion BONK tokens in circulation out of a total supply of 94.15 trillion. The token was launched with a total supply of 100 trillion tokens.
How many BONK coins are lost?

More than five trillion BONK tokens have been burned since the crypto's launch on 25 December, by the development team and token holders.
How many BONK coins are mined per day?

As BONK tokens are based on the Solana blockchain, they are not mined. The total supply was created at launch and allocated to different groups of holders, such as developers and exchanges.
Who owns the most BONK coins?

At the time of writing (6 January 2023), the largest wallet holding BONK coins is owned by the project for distribution.
Related reading