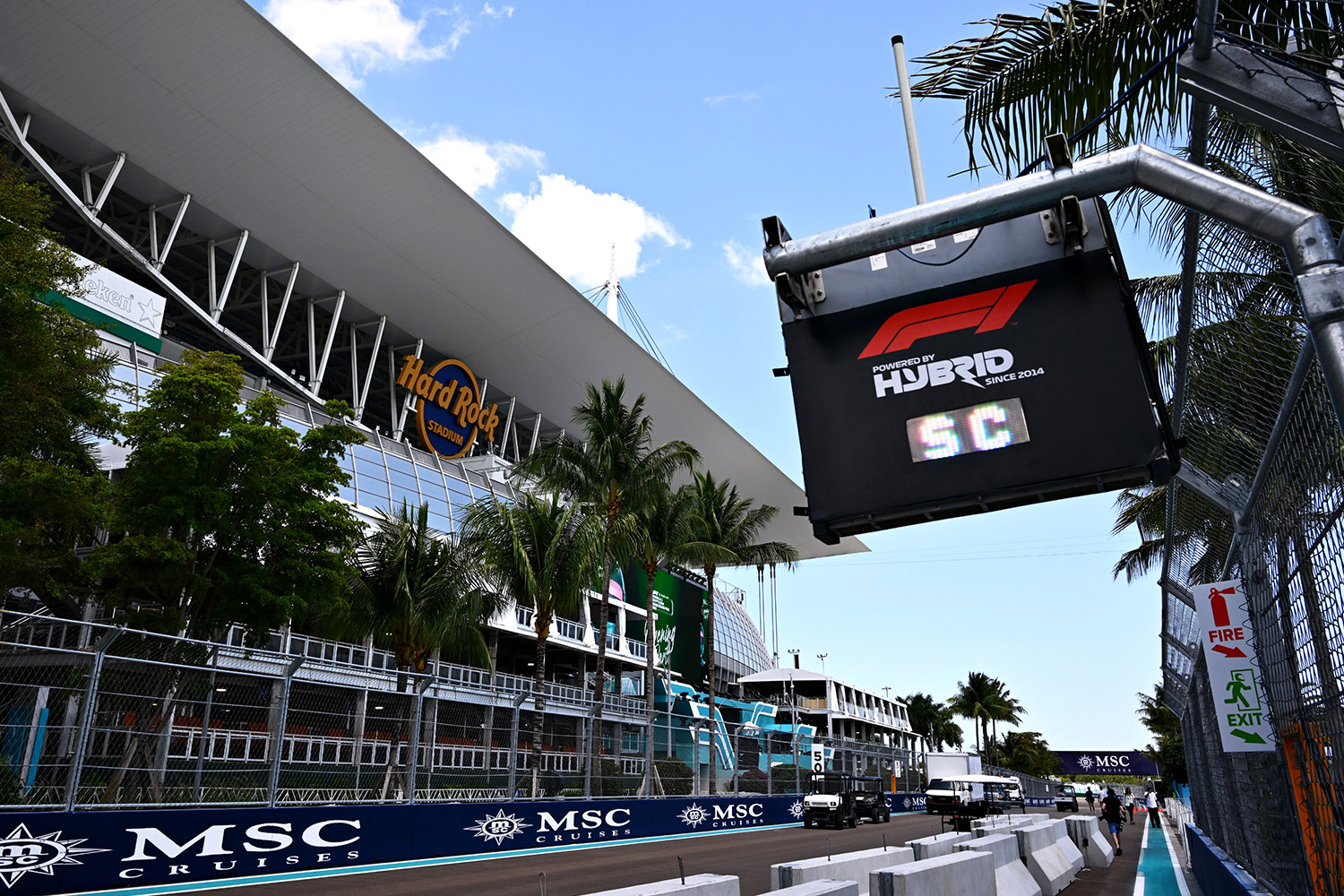 I didn't make it to the beach in time to get an NFT of my face printed onto a shirt, but I did get to enjoy some classic arcade games and see some luxury watches.
This is after checking out the yachts parked on fake water and attending a conference where I heard Alex Rodriguez talk about his real estate investments and buying the Minnesota Timberwolves ("you want to buy the worst house in the best neighborhood").
The NFT T-shirts, yachts, and A-Rod are all here in Miami for the same event, as are countless DJs, pop-up restaurants, art installations, and media folk like myself. The Miami Grand Prix is tomorrow at, or more precisely, around Hard Rock Stadium, but it has already taken over the week and the city.
"For us, as an economic proposition, Miami is a great showcase," said Greg Maffei, CEO of Formula 1's parent company Liberty Media, who followed Rodriguez at a Bloomberg conference on Friday. "There is an enormous opportunity in the U.S."
With a record 400,000 people coming to Austin last October for the United States Grand Prix, and another 300,000 coming to Miami's first run, F1 seems well on its way to realizing that opportunity.
Winning Formula
Liberty Media posted its first-quarter earnings on Friday, showing that F1's revenue exactly doubled year-over-year to $360 million. 
Maffei credited financial reforms with stabilizing and raising the values of every F1 team, while also nodding to Netflix's F1 docuseries "Drive to Survive," which was renewed for a fifth and sixth season on Thursday.
"Now, because they're all locked into franchises, the bottom team is worth $400 million minimum, maybe more," said Maffei. "And I think we're seeing numbers discussed of $1 billion per team, maybe $2 billion per team."
American viewership on ESPN rose 56% year-over-year in 2021.
"We've brought down the average age of our audience in three years by four years," Maffei said, adding that F1 is the fastest growing sport on social media.
The series is projecting nothing but confidence that it will continue to grow with Miami hosting its debut race on Sunday and Las Vegas joining the calendar next year.
Think Different
Attention is the basic currency of any entertainment product, sports included, and F1 is doing just fine in that department.
However, it has more than just a critical mass of eyeballs following its races. F1 has a cool factor that has mellowed or never existed among nearly every other U.S. sports property.
The high-performance cars in beautiful European cities, sometimes roaring through street tracks, feel clipped from a James Bond movie, and in fact 007's preferred brand, Aston Martin, races in F1. It's an obvious match for luxury watchmakers like:
Rolex, an F1 sponsor
Tag Heuer, an Oracle Red Bull sponsor
IWC, a Mercedes-AMG Petronas sponsor
But does that clash with a U.S. market that associates motorsports with NASCAR and its decidedly non-exclusive sponsors like Coca-Cola and Busch Lite?
Like so many strange bedfellows, the conflict softens when each side gives a little. F1 doesn't mind going a little off-brand if it means tapping into the American market, and the States have no shortage of brands clamoring to get in the shot (I counted 15 that line the walls of the racetrack).
One type in particular seems to be the American answer to the watchmaker: crypto exchanges. 
Both F1 and cryptocurrencies are trendy, high-tech, and have an audience that skews young. They match up as well as football and cars or baseball and beer. That's why this is not just the Miami Grand Prix, it's the Crypto.com Miami Grand Prix. 
Not conceding the spotlight, rival crypto exchange FTX took over a section of South Beach for the weekend, hosting a Mercedes-AMG Petronas F1 display, NFT art gallery, video game lounge, fashion show, the aforementioned NFT T-shirt thing, and a nighttime concert series.
Crypto.com will have its own NFT gallery within the race grounds, which will include 57 NFTs generated from speed and sound data from the race's 57 laps. You can literally own a piece of the action.
The Proof Is in the Deal
ESPN extended its broadcast deal with Formula 1 in 2019 at a reported $5 million per year. The contract expires at the end of this year, and F1 is looking at a massive increase.
Asked if F1 might seek $100 million annually, Maffei replied, "that's a nice number."
Whatever figure it lands on, F1 is enjoying its moment in the Miami sun.
The business is "in the best health it's ever been in," Oracle Red Bull Racing CEO Christian Horner told me. "There's more partners. There's more new fans and followers coming into Formula One than we've ever seen. I think we're emerging in markets that we've previously been very weak in, particularly the U.S." 
A Netflix camera lurked behind me while a helicopter thundered overhead.
"Everything has gone exponential in the U.S."