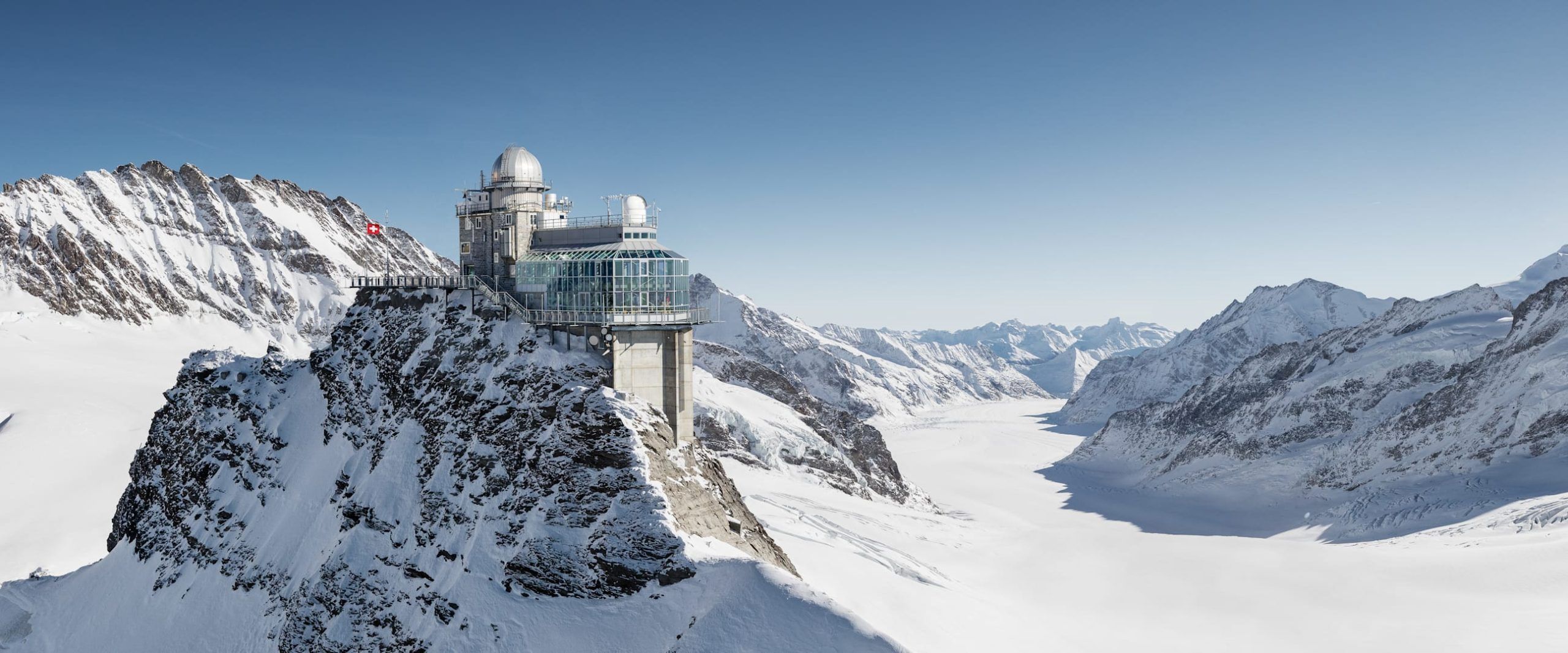 Glistening turquoise lakes and towering snow-capped mountains are just a few of the things I fell in love with while exploring Switzerland. I was also enamoured of this neutral nation's unique gastronomic experiences, its scenic travel opportunities, and its celebrated industry of luxury that goes back more than a century, all of which I had the pleasure of experiencing this past autumn season.
After a smooth, non-stop flight from Bangkok to Zürich aboard SWISS – the country's national airline, which has won multiple awards for its sophisticated business class seating and revamped planes that include a new, spacious premium economy section – I travelled onward from the airport to the 'Vaud Riviera' via train.
Switzerland is, after all, one of few countries in the world where public transport rivals private travel, and therefore I cannot recommend enough opting for the more scenic routes. Think long romantic train rides zipping past breathtaking countryside, al fresco meals aboard glamorous lake cruises, and taking in stunning mountain views from your own private gondola lift.
To make the experience even more efficient, I got a 'Swiss Travel Pass' through the SBB (the official acronym for Swiss Federal Railways), which allowed me to enjoy unlimited travel on trains, boats, and more, winding my way across the country while also having access to the best views, seats, and five-star services – one of which was baggage delivery direct to my next accommodation, so I could explore the sights worry- and hassle-free.
THE VAUD RIVIERA
The Vaud Riviera is a picturesque stretch of coastline that extends along the shores of Lake Geneva, from Lausanne to Villeneuve. It's also the heart of Switzerland's "wine country", and as a seasoned oenophile I was excited about my visit here, as the area produces some of Switzerland's most coveted wines (many of which one can only find within the nation's borders).
The region is also home to the UNESCO World Heritage Site of Lavaux, which consists not only of 830 hectares of steep, terraced vineyards that stretch out along a hillside, but also the quaint village of Chexbres, which offers a marvelous selection of local vintages.
I took the opportunity to visit the Lavaux Vinorama, recognised as a hub for exploring the many cultural and sensorial aspects of wine. Here I enjoyed a tasting of three full, dry and fruity white wines, all vinified from the Chasselas grape varietal. Paired with fresh bread and pastry sticks, the tasting was made even sweeter thanks to magnificent views over the expansive lake. And, after consulting with the Vinorama's knowledgeable in-house team, I purchased a few bottles – to serve as mementos of this memorable afternoon – before catching another scenic train ride… this time up to the famous Swiss Alps.
THE VAUD ALPS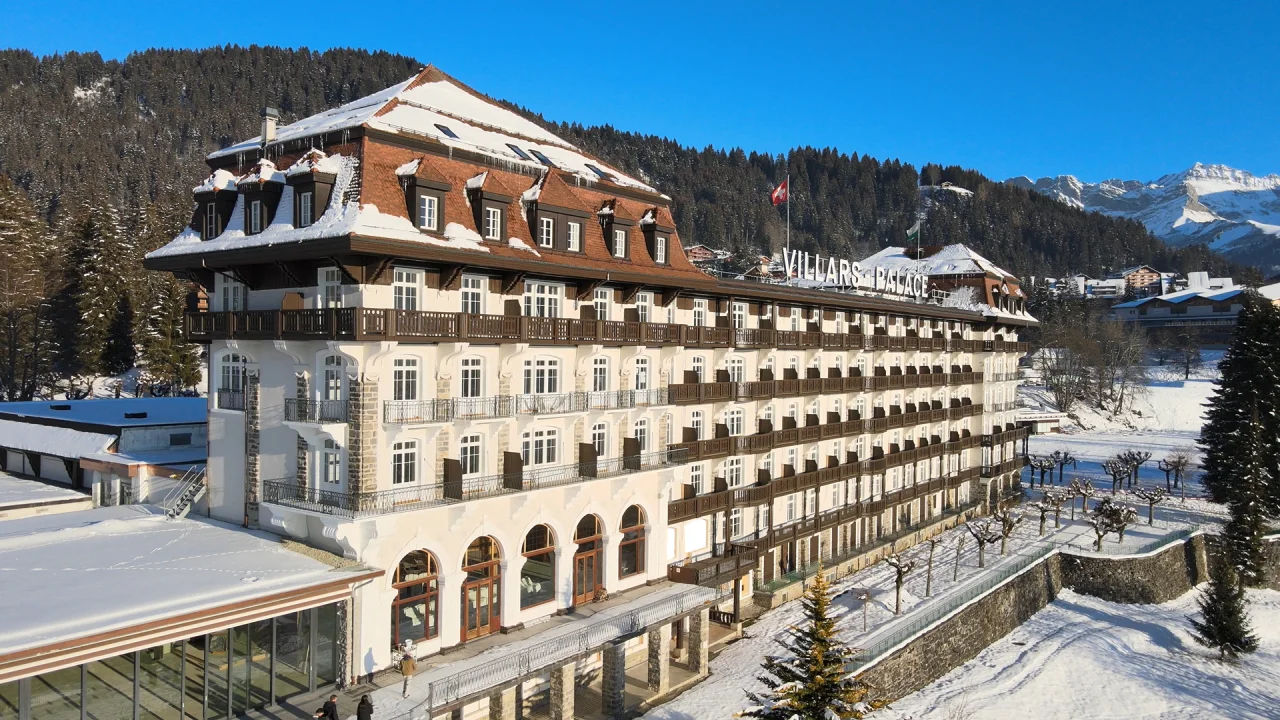 The legendary Swiss Alps are just one part of the larger Alpine Mountain Range, which stretches approximately 1,200km across seven different countries. In Switzerland, the Alps are made up of several stunning regionally specific mountain ranges, all boasting iconic peaks and picturesque mountain towns.
I began my adventure in the Vaud Alps at Villars-sur-Ollon, a ski town perched at an altitude of 1,050 metres that is renowned for its mountain scenery and upscale gastronomy. As the town is a favourite of celebrities and socialites from all over the globe, it was no surprise that its many hills were dotted with some of the most beautiful properties in the world.
I had the pleasure of checking into the Villars Palace, a landmark hotel that first opened its doors in 1913. Still housed in its original building, which absolutely oozes old-world charm, the hotel's accommodations range from guestrooms with views of the mountains, to luxurious suites; each with adorned in a palette of earthy hues and each offering all the creature comforts required for an exceptional stay.
Villars Palace is an innovative hotel that combines history, art, and culture, so it's only natural that it would boast art galleries, a fully fitted spa with an outdoor heated pool, and some of the area's best restaurants – including 1913, which focuses on the upscale 'local bistronomy' crafted by Chef Mirto Marchesi. After an evening spent tucking into this celebrated chef 's set menu, inspired by autumn flavours, I got some rest before embarking on a trip with one of Switzerland's leading luxury rail lines, the 'GoldenPass Panoramic.'
Boasting a 'Prestige Class' with heated, rotatable seats, giant skylights for panoramic views, and the option to enjoy caviar and Champagne while on board, there is hardly a more stylish way to get across Switzerland than with the GoldenPass Panoramic. When I finally arrived at Zweisimmen, I caught a connecting rail trip onwards to the postcard-perfect village of Grindelwald, which sits in a valley at the foot of some of the most beautiful mountain peaks in the entire country.
THE BERNESE ALPS
Grindelwald is considered the heart that connects Interlaken with the main crest of the Bernese Alps, and as such it's a popular destination. It also acts a hub for some of the best sightseeing anywhere in the country.
In Grindelwald, hotels are styled like chalets, with private balconies that offer stunning views of the surrounding rock faces. After checking into the family-run Hotel Eiger Selfness, I took a cable car up to First, a mountain peak offering views of the surrounding alpine pastures and waterfalls.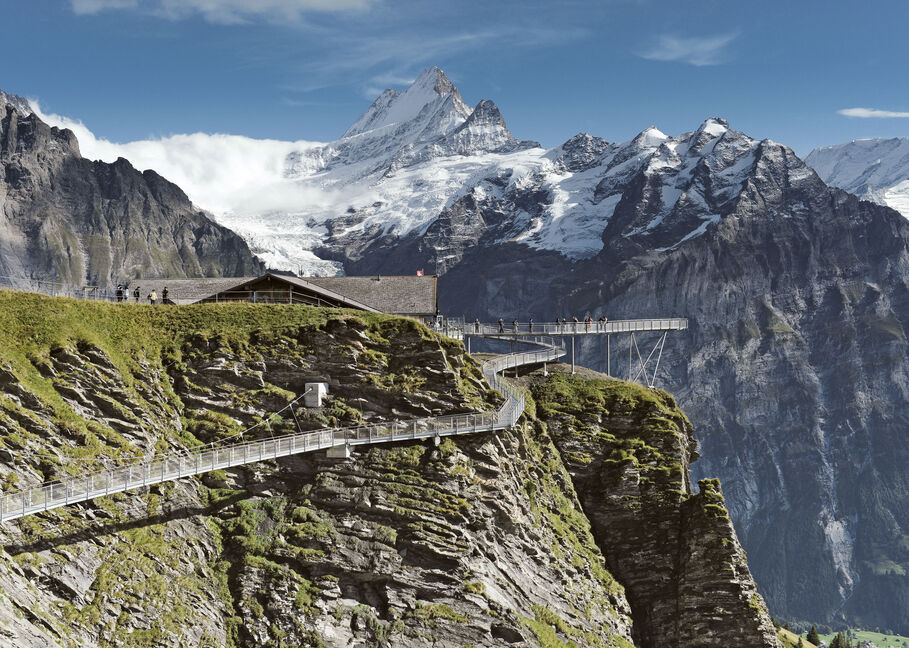 Here, the most popular attraction is the 'First Cliff Walk' – presented by the premium Swiss watch brand Tissot – which features an elevated walkway that provides plenty of Instagram-worthy photo-ops. Incidentally, the trail ends with an opportunity to purchase some of the watchmaker's most popular timepieces.
The following day, my mountain adventures continued with a visit to Jungfraujoch, popularly known as the "Top of Europe". Travelling via the most modern tri-cable gondola in the world, the 'Eiger Express', I was transported from Grindelwald Terminal to the village of Eigergletscher – located at the base of the famed Eiger mountain – and then up further to Europe's highest railway station, the Jungfrau Railway. Although all the gondolas here are capacious, the 'Eiger Express' offers a VIP service complete with lounge access, a private gondola fitted with spacious sofa-style seats, and bottle service so you can ascend in style.
As a whole, Jungfraujoch is an easy-to- navigate attraction that consists of the Sphinx Observation Deck, the Alpine Sensation (which provides a better understanding of the history behind everything), a walkway through real glaciers known as the Ice Palace, and the peak itself, where one can snap a photo at almost 3,500 metres above sea level.
The next day I basked in the panoramic bliss of more mountain vistas when I arrived at Stechelberg, after which I made my way up to Mürren, and then on to Birg, using the roomy Schilthornbahn cable way. While here, I took in the unforgettable sight of three of Switzerland's most famous mountains, lovingly called the 'Swiss Skyline'.
Moving on from Birg, I took the cable car up further to the peak of Schilthorn, made famous as a filming location for the 1969 James Bond film On Her Majesty's Secret Service. As tribute to the movie, the building houses several attractions, my favourite of which was a Bond-themed brunch served on a 360-degree rotating platform. It featured a delicious spread of Swiss classics, such as älplermagronen (essentially Swiss mac and cheese with potatoes), and lots and lots of bubbly!
Even though Schilthorn has spoiled me with spectacular view after spectacular view, I was still thrilled by my next stop, the Harder Kulm Panorama Restaurant, which towers high above the neighbouring city of Interlaken. Serving delicious local specialities, including fondue and raclette, it has become a favourite of locals and visitors alike – including Thai celebrities Noppakao Dechaphatthanakun and Primrata Det-udom.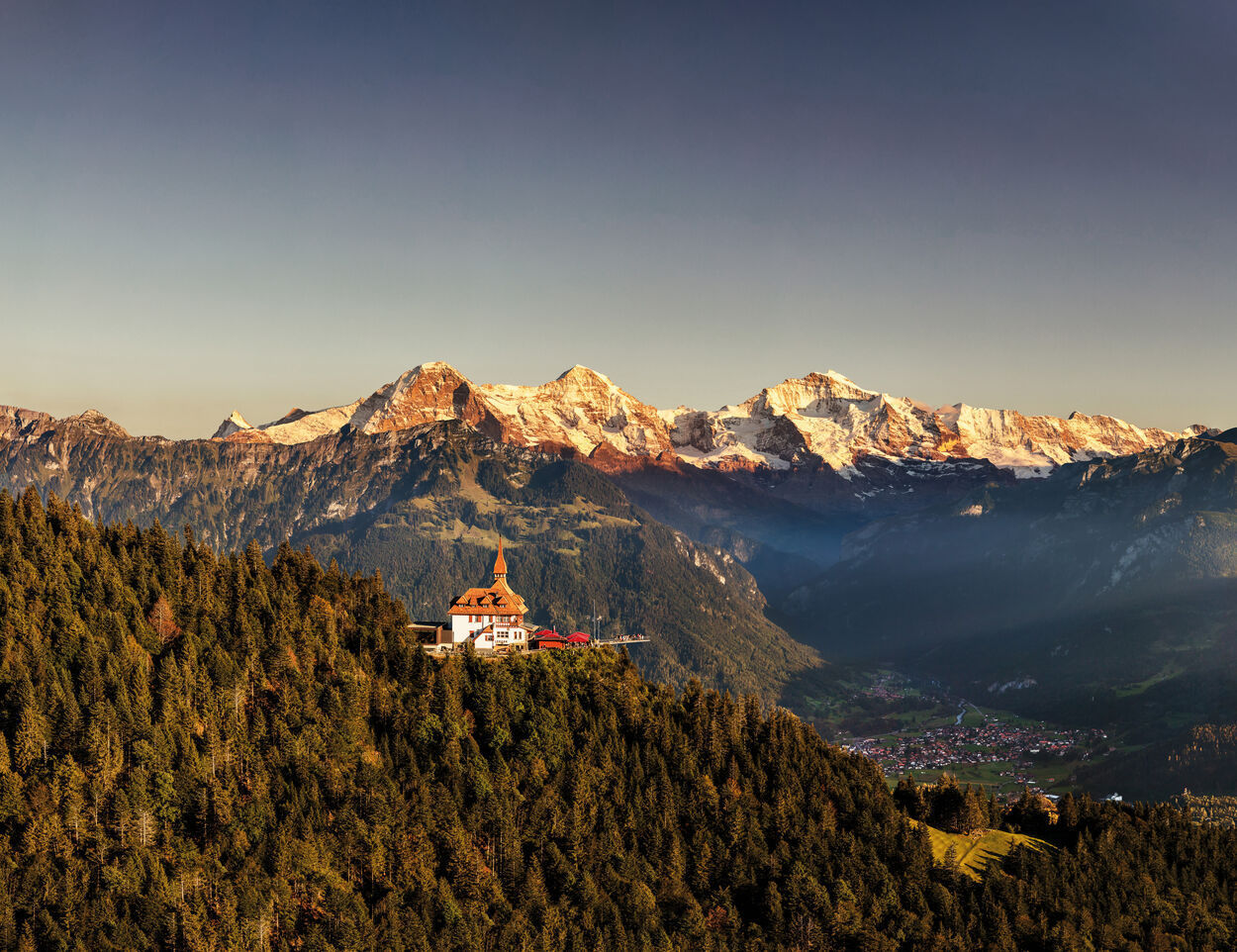 LAKE LUCERNE
After a brief sojourn in Interlaken, a town flanked by two stunning turquoise lakes
– Lake Brienz and Lake Thun – I boarded a boat for a scenic voyage to Weggis, a quaint town that neighbours the historically rich city of Luzern. Home to several luxury boutique resorts and spa hotels, Weggis provided me with the perfect base for exploring the famed Mount Rigi, and its celebrated hiking trails – one of which ended in a memorable gastronomic surprise… lunch at a Michelin- starred restaurant.
Located inside the Kraeuter Hotel Edelweiss, near Mount Rigi's summit, Regina Montium restaurant serves up dishes crafted from a wide variety of local produce, as well as the 400 different herbs grown at the on-site garden. Famed for its back-to-nature food philosophy, it came as no surprise after dining there that this restaurant holds a one Michelin star ranking.
Beyond its stunning landscapes and rich culture of gastronomy, Switzerland's storied history is another big draw for travellers. As someone who explores the world predominantly to foster a better understanding of how different countries have evolved, I spent some time exploring the meandering alleyways that make up the cultural hub of Luzern, in order to get a glimpse into the past.
During my walk I took in landmarks such as the Chapel Bridge, featuring paintings preserved from the 17th century, and the pedestrian-only old town area, filled with cobblestone streets and unique architecture. I also visited the 'Walk of Watches', a dedicated street lined with colourful buildings and boutiques from some of the world's leading watchmakers and jewellery designers. For rare, pre- owned watches, the city also houses Bucherer and 'Rent a Box' stores, where certified watches from Hublot, Rolex, Jaeger-LeCoultre, and more can be purchased.
After a few hours exploring on foot, I enjoyed an early dinner at the newly opened Mandarin Oriental Palace, Luzern, which offers an unrivalled lakeside location. Here, I tucked into fusion Asian cuisine at MOzern Bar & Brasserie, before enjoying a sneak peek of its outlets, the Colonnade for French haute cuisine, and the soon-to-open Minamo for Japanese omakase.
THE BÜRGENSTOCK
Although the Luzern city centre is filled with many of the world's leading hotels, for a luxury escape like no other, make sure to add a visit to the Bürgenstock Resort to your itinerary. Located on a private isle, I was whisked to the hotel from Luzern via a private catamaran, complete with panoramic windows and a breezy outdoor deck. Upon arrival, I hopped on a funicular railway that took me through a lush forest on its way up to the resort's spectacular cliffside location.
Built in 1873, the Bürgenstock has been the home-away-from-home for many special guests including Charlie Chaplin, Sophia Loren, Kofi Anan, and even Audrey Hepburn, who famously got married at the Bürgenstock Chapel. More recently, the hotel was the setting of Kimberley Anne Woltemas and Mark Prin's lavish engagement.
Upon arrival I took time to explore the property's sprawling grounds, including an impressive exhibition that showcased its rich history, impressive feats of construction, and snapshots of all the incredible parties that have been held on its grounds. A Swiss hospitality landmark, it combines incomparable views over Lake Lucerne with an abundance of five-star facilities, including luxury boutiques, a golf course, and no less than 12 restaurants.
One of the most unique experiences I had while at the Bürgenstock was riding Europe's tallest outdoor elevator – the glass Hammestschwand Lift – which opens to a scenic viewing platform unlike anything I had ever seen before. I believe this experience in itself is a fitting microcosm for luxury travel in Switzerland, as one need not compromise on comfort in order to enjoy some of the world's most incredible sights.
Featured image: The peak and Sphinx Observatory at Jungfraujoch – the 'Top of Europe.'